Fortnite Offering Free Stuff To Apologize For Server Problems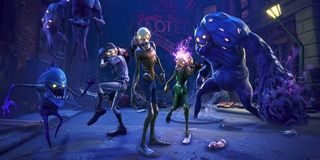 Fortnite experienced some extended, unscheduled downtime this week which prevented players from enjoying either the cooperative or competitive modes for nearly a day. If you feel like an apology in the form of in-game goods is in order, you can log into Fortnite now to graciously accept it.
It's pretty clear that Epic wants to keep their users happy, as they seem willing to make amends if their servers so much as hiccup. Earlier this week, though, they did a lot more than hiccup. As Epic rolled out update 3.5, the servers basically came crashing down. That sent the repair team into overdrive and, at the same time, left a sizable audience of players bummed that they couldn't boot up their favorite game.
The problem was addressed pretty quickly in the grand scheme of things but, still, Epic wanted to make sure all of its players felt like their lost hours in-game were being compensated for in some way. Never mind the fact that Fortnite's biggest draw, Battle Royale, is free-to-play.
Anyway, Epic promised some treats would be made available and, this weekend, they've made good on that promise. Heading into the weekend, Epic announced that the issues affecting both Battle Royale and Save the World were resolved and, to compensate, they highlighted what players can now log into the game and claim.
If you're playing Battle Royale, you can now claim a free Back Bling that will be available through the store free of charge. It's a pretty neat piece of gear that looks like it was scrapped together at a junkyard. If the name doesn't give it away, it's basically a cosmetic backpack you can wear while trying to be the last player standing.
Folks playing Save the World will find a free Troll Stash Llama in their loot tab free of charge, which will be packed with all sorts of in-game resources and goodies.
If you play both modes then, obviously, you can hop on in and grab both gifts while they're available this weekend.
But wait, there's more! Sometime next week Epic will also grant Battle Royale players a pack of free Battle Stars to help boost their seasonal ranking, while Save the World players will earn some Seasonal Gold to spend in-game. Epic is also promising a "detailed postmortem" on this past week's issue, for those who really care all that much.
When your game is the biggest show on the planet, we suppose we can't blame Epic for being so apologetic for a day of downtime. It's not the kind of move we're used to seeing, so maybe that's why it has caught us off guard so badly. But hey, who is going to complain about free gear and experience?
Your Daily Blend of Entertainment News
Staff Writer for CinemaBlend.