Drake Played Fortnite And Twitch Went Crazy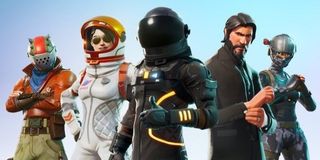 (Image credit: Epic Games)
Twitch has been growing vastly in popularity since being acquired by Amazon over the last few years, but things have taken a drastic turn for the better after the rapper Drake hopped onto Twitch to check out Epic Games' Fortnite.
According to Polygon, Twitch streamer Tyler "Ninja" Blevins was playing Fortnite on Twitch when he was joined by Drake. This set a new record for Twitch, gaining 635,000 concurrent viewers in one session, which surpassed the Twitch return of Dr. Disrespect after he came back from a hiatus.
There's a 50 minute video featuring Drake joining Ninja's stream. How did people know it was Drake? Well, he tweeted it out from his officially verified Twitter account, where he let the world know that he had joined Ninja in playing Epic's Fortnite.
The stream took place on March 15th, and you can hear Drake and Ninja using voice chat to communicate with one another. Polygon notes that Drake is playing on the PS4 but can't confirm if Ninja was also on the PS4 or if they were somehow using cross-platform play between PS4 and PC.
One thing is for sure, Ninja picked up tens of thousands of subscribers just by playing with the popular musician. In fact, Polygon notes that Ninja picked up 90,000 subscribers during this event, alone.
When the group first dives in they get followed by a bunch of other players and killed off pretty quickly. Ninja decided to use stealth skills in order to sneak into the map to avoid being stream-sniped, a popular tactic some players use in games like PlayerUnknown's Battlegrounds or Fortnite in order to one-up popular streamers.
The squad tries it again, landing on the map and looting fast and hard. During the second match, Ninja took out two guys but got flanked by two more guys. Drake actually came to the rescue by taking out his assailant and healing Ninja for the team assist.
If you have an hour to burn and want to find out what some of Drake's gaming habits are, it's somewhat laid out in the stream on Ninja's channel.
In between the light chatter you'll get to see plenty of Fortnite's gameplay on display, including the team building mechanics, how to squad up and tactically take down foes, and attempting to survive as the last team standing.
The boost in celebrity star power helped Ninja greatly, as he was able to earn around $250,000 a month from subscribers, which would obviously help out his streaming career greatly.
Some of the commenters thought it would be a neat idea to have celebrities on the channel and interview them about their hobbies and gaming while playing something like Fortnite or PlayerUnknown's Battlegrounds. It would almost mirror the late night talk shows, except it would center around gaming.
In the case of Drake, Polygon notes that he appears to enjoy vegetarian pizzas, and plays his PS4 with a Scuf controller. He also plays with the skin that was inspired by the movie John Wick.
Fortnite is available right now for PC, PS4 and Xbox One, and you can hop into the Battle Royale mode for free.
Your Daily Blend of Entertainment News
Staff Writer at CinemaBlend.