God Of War Director Cory Barlog's Reaction To The Reviews Might Make You Cry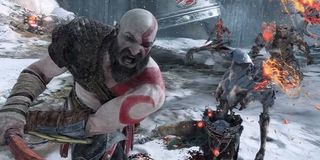 God of War finally released today, though reviews of the game went live as early as last week. Game Director Cory Barlog released a video of the first time he looked at those reviews, and the pure emotion of the situation overwhelmed him. Get ready, it could overwhelm you too.
At about the three-minute mark, Barlog has an emotional moment as he talks about the people he has worked with in order to make the game a success. From the team at Santa Monica Studio and beyond, he offers a sincere bit of gratitude that will have many viewers stating, "I'm not crying, you're crying!"
Eventually, Barlog says something that's easy to relate to, especially if you've ever had folks relying on you to get a difficult job done. "I didn't fuck it up," he says, sighing with relief, adding that he was legitimately "freaked out" leading up to the game's launch. Of course, he had an entire studio, their families, fans, execs at Sony and years of labor poured into a single project, so we imagine the burden to get God of War "right" was extraordinary.
If nothing else, Barlog's video does a good job of reminding us that these games we play are typically made by people who are genuinely trying to do their best work. Nobody sets out to make a bad game, but sometimes the end result doesn't match the vision and effort that went into it. We're by no means saying to throttle back on criticism, just that it's important to remember that actual people are responsible for these games.
Sure, there's a lot of hyperbolic language peppered throughout many of the reviews Barlog is reading, but that's typically the case when a game is something truly special. And since the aggregate on Metacritic right now is at 95, we figure all of those glowing words are likely well-founded. The nice thing is that you no longer have to take anyone's word for it, as God of War is ready to roll on PlayStation 4 right now.
We understand Barlog's fears leading into the launch of God of War, because he was well aware of the fact that the game was changing a lot of the staples that have defined the series over the past decade. The combat, the camera, map and even the tone of the game is different from previous God of War titles, which can be a risky move when you're dealing with a series that already has a huge following. Based on the reviews we're seeing, though, they were risks worth taking. All of the things Santa Monica Studio changed in God of War have received praise for various reasons so, again, that's got to be making Barlog and his team feel pretty great right about now. They took some risks and, based on the response, those risks have paid off.
Your Daily Blend of Entertainment News
Staff Writer for CinemaBlend.