New God Of War Is Kratos' Quest For A Second Chance, According To The Director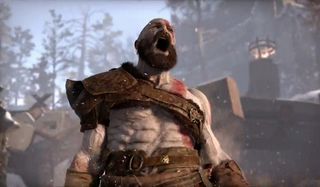 Is it possible to be redeemed for a lifetime of violence? What do you do when everything you love has been destroyed and no more enemies stand in your path? For Kratos, the antihero of the God of War games, is there still hope for a second chance? These are the questions Director Cory Barlog wanted to answer and, in the new God of War game, players will seek those answers for themselves.
Revealed in a demo at the top of the Sony E3 2016 press conference, God of War is a brand new take on a familiar series. Those who saw the conference were treated to a first look at a new version of Kratos, one not fully driven by his rage.
In an extended demo of that same section of gameplay, Director Cory Barlog said events in his own life led to this new tale for the legendary character. After working on the first three games in the series and disappearing from Santa Monica Studios, Barlog said he realized he had another Kratos story to tell.
Barlog explained that Kratos views his godhood as a disease, something that is wrong inside of him. That part of him is at constant odds with his human side, leading to a tremendous rage that's always bubbling just below the surface. Barlog wanted to know what it would take for Kratos to finally learn to tame that rage, taking him all the way to the brink and back.
At the start of the God of War demo, we see that not only has Kratos grown older, but his demeanor is (slightly) calmer and, just like Barlog, he now has a son. The Director said that the fate of the boy's mother is a key plot point in the game and, despite rumors circulating around the internet, the child's name has not yet been revealed.
So how does a demigod get to this point? Barlog had the answer, which contains spoilers for those of you who haven't played through the series yet.
That, of course, leads to the new setting, characters, feel and Norse mythology of the new God of War. This is Kratos' second chance to be a good man, or at least a good father, so his son will be an integral part of that journey.
Watching the demo footage, I got a distinct The Last of Us vibe off of this new God of War, and that's certainly not a bad comparison. Kratos is still as gruff as ever, but it's clear he's doing his best to raise a son who is capable of taking care of himself.
Kratos' son will follow him on this new path, helping his father as much as the tattooed demigod is helping his son in turn. The boy is able to read runes and communicate in ways that Kratos cannot. He also wields a bow and arrow, which Kratos can command him to fire while in battle. The kid even has his own upgrades and, as Barlog explained, he'll never feel like "a burden."
In Kratos' new life, even confronted by new threats and enemies, his focus remains on his son. That, alone, shows growth for a character who, for seven straight games, was singularly focused on his own revenge. In this new adventure, Kratos will use every opportunity available to serve as a learning moment for his son, even if he is something of a drill sergeant when it comes to instruction.
And as for the road ahead to Kratos' second chance, Barlog said it won't be a short one. He said this is a new beginning for the character of Kratos and that he has a lot of stories he wants to tell. "There's definitely going to be more than one," he added.
Your Daily Blend of Entertainment News
Staff Writer for CinemaBlend.