God Of War Reviews Are In, Here's What The Critics Think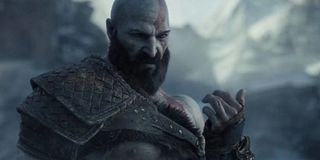 Reviews for God of War have started popping up, with critics weighing in on Santa Monica Studios' latest action romp. So, is Kratos' latest anger-fueled romp a god tier game or has the long-running series lost a step or two along the way?
Based on what we're seeing from the reviews, PlayStation 4 fans have a lot to look forward to once April 20 finally rolls around. Based on a whopping 80 reviews already tabulated by Metacritic, God of War is sitting comfortably at an overall score of 94. Santa Monica Studios obviously had a lot of faith in their latest game, as the review embargo lifted a full week before launch. Not a lot of developers make that kind of move these days.
Many critics graced God of War with a perfect score, saying it elevates the series while making a lot of welcome changes to the familiar format. Many praise the strength of the game's narrative focusing on Kratos and his son, while others seem to really like the new combat that feels inspired by the Dark Souls series.
One of those five-star ratings comes from The Guardian, who said an "older and wiser" Kratos is still "exhilaratingly brutal." The review states that Santa Monica Studio clearly wanted Kratos to be a person this time around, rather than a hate-fueled weapon.
Polygon also got a lot out of the new God of War, giving it a perfect 10 in their review. Chris Plante says that this latest entry in the series feels like a "creative revamping," making it a new take on a familiar formula for a new era.
The Polygon review also goes into detail about the more open map featured in God of War, which injects the series with a real incentive to explore. He warns that some of the game's best moments are tucked off the beaten path, though, so keep your eyes peeled while playing.
Over on Videogamer, their review points out that while being a much more emotional experience, you "can still step on heads until they explode" in the new God of War. They also praise the Norse mythology for being a perfect next step for Kratos' journey, as well as the game's big gamble/big payoff risk of featuring a story with substance. Not that previous God of War games didn't weave fun yarns, but it sounds like this latest campaign is packed with intent.
Their main gripe, however, is that the conclusion feels like it's just begging for a quick follow-up, one they predict will take the form of upcoming DLC.
On the lowest end of the review spectrum is The Sixth Axis, who awarded God of War an 8/10. Obviously, that's still not a bad review by any stretch.
While it praises many aspects of the upcoming game, their biggest complaint seems to be that God of War borrows a lot from other great games.
All in all, it sounds like the new God of War has a lot to look forward to when it arrives on April 20.
Your Daily Blend of Entertainment News
Staff Writer for CinemaBlend.