How Destiny 2 Is Changing Loot Boxes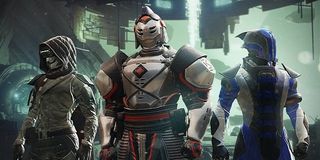 The second expansion for Destiny 2, Warmind, is set to arrive this week, bringing with it some new missions, a new location to explore, new multiplayer maps and, of course, new gear. Warmind will also usher in some big changes to the way the core game works, including a much-requested revamp of the in-game loot box system.
It's been a rocky road for Destiny 2, immediately praised for being a better, more focused game than its predecessor only to go on and be panned for not having long enough legs to keep players coming back for more. Bungie and Destiny 2 even got caught up in a big of loot box controversy of its own last fall, spurred on by the bad press tsunami surrounding Star Wars: Battlefront II.
To their credit, Bungie has been working to address many of the community's biggest gripes and, once Warmind goes lives, they'll even be revamping their in-game store and loot box systems. The end goal? Giving players a clear picture of what loot they can get and making sure they don't acquire the same items repeatedly.
With Warmind set to launch across all platforms in just a couple of days, Bungie has held a media blowout in recent weeks to highlight some of the changes coming to the game. In a recent blog post, they've outlined all sorts of details pertaining to the upcoming expansion, as well as alterations that will be seen in the game's third season of play.
If you scroll all the way down to the Prismatic Matric heading, the post explains that Bungie is finally ready to shift vanity content in favor of activity rewards. Up to this point, a lot of that was handed through the Eververse, the in-game store. You could buy pretty much everything you wanted through in-game play, but many fans were unhappy with the fact that it felt like you were also being incentivized to simply spend more real-world money on the game just to get some cosmetic goodies you really wanted. Also, players had to drop by the Eververse every time they level up to claim certain rewards, which felt like a constant way of reminding you the real-money options are available.
This issue was partly addressed recently by making cosmetic items into more frequent rewards for in-game activities but, to take it one step further, Bungie is introducing the Prismatic Matrix into the game with the arrival of Season 3.
The post states that the intent of the new system is threefold, aiming to give players more control over how they earn Eververse items in Destiny 2, give players a "more predictable path" to some of those items and even drop fewer duplicate items while playing.
The easiest way to think of the Prismatic Matrix is as a weekly punch card. As you perform certain activities or activate part of the Matrix using Bright Engrams and the like, one of the items will be punched out and given to you. When you go back to the punch card and get a new item, it won't be any of the items you've already collected. There will be 10 items per week, which will be displayed for players to see. You'll be able to purchase extra activations for real-world money if you like, and you'll also be given a free activation every week at reset.
Hopefully, this will make things a bit less random which will make players feel like it's worth accomplishing the game's goals to get the rewards they want.
Your Daily Blend of Entertainment News
Staff Writer for CinemaBlend.