Xbox One Digital Games Can Now Be Given As Gifts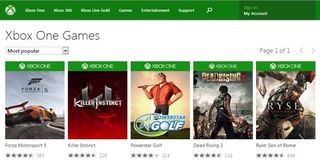 (Image credit: Microsoft)
One of the most requested features for the Xbox One's digital storefront was being able to gift games to your friends. This is something that gamers had been wanting since it became a thing on Steam. Well, after a lot of requests, Microsoft finally implemented the feature for PC gamers and Xbox One gamers.
Over on the Xbox Wire (opens in new tab), senior director of Microsoft store product marketing, John Smith, made a post revealing that PC digital game gifting is finally here.
It's now possible to gift PC games and PC DLC to other gamers through the Windows Store. It's also possible to gift Xbox One games to other gamers on your friend list.
The process of gifting games has been made pretty easy, where you just head over to the Microsoft Store via a Windows 10 operating system or the Xbox Store, and then you search up or navigate to the store page with the product you want to gift, and then you select to purchase that product. Now, before you buy it for yourself, you can click on an option that has "Buy as Gift", and then you have to manually type in the e-mail address for the person you would like to receive that gift.
The Xbox One is slightly different, as you will need to navigate to the product, select to purchase it, highlight the "Buy as Gift" option but instead of putting in the person's e-mail address, you need to input their Gamertag ID from the Xbox Live friends list.
Now the way it works is that it doesn't auto-send the game to your friend's inventory, nor does it auto-download it to their digital library. The gifting works almost identical to the way Valve has it setup for Steam.
When you gift an item to someone on Steam, you proceed to select to purchase the game and then during checkout you can choose to purchase it as a gift for someone. Once you purchase it as a gift you can then send the gift to someone and they will receive a notice that the gift has been added to their item inventory. Now in the case of Steam, you have to go into the inventory, open the gift and add it to your software library.
For Xbox owners, they'll receive a system notification with a message that has a clickable redemption button. Once the button has been clicked then the software code will appear along with instructions for redeeming the code to add the software to your Xbox library.
What's interesting is that there are limits to the system. For instance, you can't buy and gift more than two discounted products and a total of 10 discount products within 14 days. Full priced gift purchases have no restrictions on them, though.
You can't gift Xbox 360 digital games, nor OG Xbox games, nor pre-orders, no free products, nor DLC or currency to other Xbox users.
And finally -- much like how Valve has it setup for Steam -- you can only purchase and gift items to people who are located in the same region where the product was purchased. So if you were hoping to gift some Aussie gamers a banned title, by purchasing it from the North American storefront, think again.
Your Daily Blend of Entertainment News
Staff Writer at CinemaBlend.
Your Daily Blend of Entertainment News
Thank you for signing up to CinemaBlend. You will receive a verification email shortly.
There was a problem. Please refresh the page and try again.