Co-Founder Of Atari, Ted Dabney, Is Dead At 81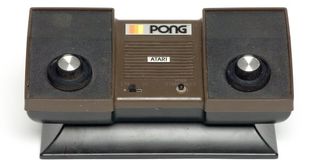 (Image credit: Atari)
One of the co-founders to one of the most beloved and recognizable names in the gaming industry has passed away recently. Ted Dabney, who helped start the original Atari corporation back during the bustling and hustling of the digital gaming advent, has passed away at the age of 81.
The news was made available through a Facebook post by Leonard Herman on May 26th, 2018. Herman wrote a brief message stating that he had learned of Dabney's death and that he hopes his dear friend rests in peace.
Dabney originally co-founded Atari back in 1972 alongside Nolan Bushnell. The two helped spearhead the home console and modern arcade culture, turning it into the mega-billion dollar industry that it is today.
Dabney and Bushnell worked on early pioneering forms of video arcade machines, such as Computer Space and Pong. The latter game went on to become a staple in the video game industry as one of the most influential and important games ever made.
The friendship and partnership didn't last long between Dabney and Bushnell, and the two parted ways in 1973. While Bushnell went on to become a recognized name in the gaming industry, Dabney mostly faded away, working here and there on projects under the Syzgy Game Company until it closed up shop.
Unlike some of the other pioneers in the gaming industry, Dabney never really stepped out front for recognition and fame. Instead, he quietly retreated to his own little domain, working outside of the industry after doing a stint at the Teledyne Technologies Corporation.
Years later Dabney would be part of an interview in Edge Magazine detailing his life and times during the early days of Atari, as well as his eventual departure and exit from the gaming industry.
According to Eurogamer, Dabney was diagnosed with esophageal cancer last year. Instead of seeking treatment to have the cancer removed, Dabney dealt with it on his own terms and eventually succumbed to cancer this year.
It's interesting that some of the pioneers of the industry are passing on, no matter what sort of controversies they were involved in back during the heyday. It is a shame that Bushnell and Dabney didn't seem to reconcile, according to the Edge editorial, but it seemed as if Atari was always caught in a whirlwind of controversy. In fact, it was just barely a decade after Dabney parted ways from the company did it fall into collapse during the video game crash of 1984.
While gaming was in turmoil at the time, it did rise from the ashes like a phoenix thanks to Nintendo. Atari has never really been the same since given that ownership and rights have been passed around many times over the years. Nevertheless, the legacy that Bushnell and Dabney originally created back in 1972 with the initial mainstream wave of games like Pong will still live on as the nascence for what would become known as modern day home gaming. Hopefully Dabney passed on knowing that he contributed greatly to the growth of the current day multi-billion dollar gaming industry.
Your Daily Blend of Entertainment News
Staff Writer at CinemaBlend.
Your Daily Blend of Entertainment News
Thank you for signing up to CinemaBlend. You will receive a verification email shortly.
There was a problem. Please refresh the page and try again.