Atari Officially Reveals New Atari VCS Console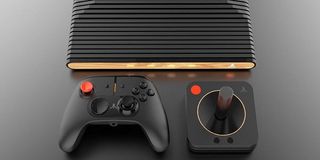 Originally known as the Ataribox, the developers have finally revealed the official name for their latest console, the Atari VCS. A pair of controllers for the new gaming machine will be revealed during the upcoming Game Developers Conference and, next month, we'll finally get pre-order details for folks who are looking forward to introducing a new Atari console to their living room.
Atari sent out a press release this week announcing the Atari VCS, which stands for Video Computer System. The hardware was revealed last fall but, until now, we only had the nickname, "Ataribox," for reference. Along with the console, Atari has revealed prototypes for the consoles' two controllers, including a more modern offering and a joystick based on classic Atari designs.
At first glance, the Atari VCS seems like a lot of similar modern takes on retro consoles. Nintendo has found a lot of success with the NES Classic and SNES Classic, both of which offer a large library of games from their respective generations, all under one roof. Both offer dang-near perfect new versions of their classic controllers, as well as console designs that are absolutely tiny. Sega, on the other hand, is releasing a massive collection of Genesis games on a single disk.
As for Atari, the VCS will apparently be a pretty small piece of hardware, and its controllers look to be wireless from the single promotional image they've been kicking around. Unlike other retro consoles, however, Atari claims the VCS will offer much more than just retro gaming. That's a good thing, since the cost most recently kicked around ranged from $250-300.
The Atari VCS will, of course, play classic Atari games. Depending on the price, we're hopeful that library will tackle a large collection of old-school titles and, even better, be included right out of the box.
What sets the VCS apart, though, is the fact that the console boasts a custom AMD processor, Radeon graphics and even a Linux-based OS. All of that is necessary for the console to fulfill its other task of playing more modern games. Obviously, we're not talking AAA magatons that push modern hardware to the limits, but it sounds like the VCS will be able to run some pretty decent games. Whether or not those are just straight-up regular games or a new library exclusive to the new console remains to be seen. Also, are we talking downloads or streaming here? One of many questions we'll just have to wait a bit longer to get answered.
The good news is that the VCS is set to be on display during GDC, with a pre-order announcement set for some time this April. We figure that's a good indicator of a deadline for final details, as folks don't normally expect you to pre-order a new console without knowing what, exactly, it's capable of.
Your Daily Blend of Entertainment News
Staff Writer for CinemaBlend.