Harry Potter: Hogwarts Mystery Will Finally Let You Have Your Own Hedwig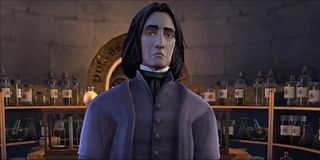 (Image credit: Warner Bros. Interactive Entertainment)
Mobile gamers have been treated to a number of new games and apps themed around J.K. Rowling's Wizarding World. While there are titles available for properties based on popular movies like Fantastic Beasts and Where to Find Them, it's the Harry Potter universe that really draws in the fans and creates all sorts of excitement and thrills within the Wizarding World community. In fact, the latest update for the widely popular mobile title Harry Potter: Hogwarts Mystery adds a much-requested feature to own a Hedwig, and I'm sure gamers will be duly excited once they get their hands on it.
According to a recent press release from Warner Bros. Interactive Entertainment and Jam City, the update for Harry Potter: Hogwarts Mystery adds pets to the game. This means that you can finally get your hands on a Hedwig and have yourself a marvelous time.
There's more than just the Hedwig available in the Harry Potter: Hogwarts Mystery. There are other pets as well, including the Owl, Rat, Cat, Toad, Mrs. Norris, Fang, and more. The selectable pets will accompany your character throughout their adventures. The game allows you to rack up four pets at any single time, but you can only have one pet set as a friend at a time, similar to the Pokemon games.
The update is available for those with the game installed on their iOS or Android devices, which you can acquire for free from Google Play or the iTunes App Store.
The game was also updated with all new stories from Year 4. This includes additional content based around the Nifflers, the Bowtruckles, and the Hippogriffs. You'll also be able to interact with the centaurs and giant spiders in a brand new location added to the game in the form of the Forbidden Forest.
Accompanying these new features are brand new customization items as well, including the ability to purchase new clothes for your character. In a future update, Jam City plans on adding a Dueling Club mode where players will be able to challenge one another and win exclusive prizes and rewards for doing so.
The game allows you to create your very own wizard and attend Hogwarts. You're able to investigate some of the ancient mysteries surrounding the Harry Potter unvierse, as well as upgrade your character with new magic.
Similar to Rockstar Games' Bully, you'll be able to attend class and learn magic spells, as well as brew potions. You can unlock additional characters and upgrades by completing mysteries and exploring Hogwarts.
Along the way you'll be able to make friends with the NPCs, go on quests with fellow students, as well as build up your reputation and respect levels among your peers as you travel through Hogwarts Mystery, discovering new mysteries, unlocking new spells, and advancing your created character.
You'll also now be able to indulge in building up your budding relationship with your new pet thanks to the new update in Harry Potter: Hogwarts Mystery.
Your Daily Blend of Entertainment News
Staff Writer at CinemaBlend.