Harry Potter: Hogwarts Mystery Is Now Available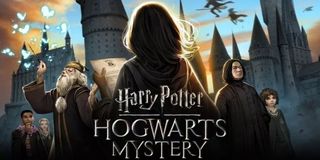 (Image credit: Warner Bros)
Warner Bros. Interactive Entertainment and Jam City announced that Harry Potter: Hogwarts Mystery is currently available right now via app stores for Android smart devices and iOS powered smart phones. You can get a hold of the app right now, for free.
The game is being published under the Warner Bros. Interactive Entertainment Portkey Games division, which handles mobile games and video games that are centered specifically around the J.K. Rowling's original Wizarding Works projects. This likely means that there will be a lot more games to come out featuring J.K. Rowling's original works and some of her more popular characters, both within and outside of the Harry Potter universe.
The game itself is based around players creating their very own Hogwarts student and going on an adventure within the Hogwarts Academy. The game takes place in an alternate 1980s, where players will be able to join one of four houses at Hogwarts. The objective is to learn different kinds of magical skills and establish friendly relations with the other students at the school.
Like most other personalized role-playing games, you'll have a number of customization features at your disposal in Harry Potter: Hogwarts Mystery, including being able to modify and customize the appearance of your hero. The choices aren't super extensive, but you can choose between male or female characters, as well as their skin color, their hair style, and their hair color. Like most free-to-play games, there's a collection of premium-priced hair styles that can be acquired for real money.
Once you settle in on how you want your character to look, you can then venture about Hogwarts, schmoozing and carousing with the students in order to better learn about their personalities, as well as help them along with their studies.
A large part of the game centers around learning and elevating your magical abilities, including visiting the various teachers who will help cultivate and sculpt your skills into something worthwhile so that you can become a legitimate wizard or witch.
Along the way you'll be able to take part in mini-games, where you'll learn about transfiguration, or putting together crafting potions, as well as taking part in interactive spellcasting.
Additionally, there will be some mini-games for players to encounter, similar to what was featured in the Harry Potter films.
To help round out the experience are narrative-driven consequences and choices based on player decisions. As you interact with the different characters you may also find yourself being put in a situation where you'll need to make key decisions that can drastically affect the outcome of the story. I do wonder if the four different houses will play a part in how the story unfolds, or if the option is simply there for cosmetic purposes?
Either way, Harry Potter: Hogwarts Mystery is obviously a game designed for fans of the series who want to game on the go. Details on the gameplay features are rolled out over on the official website, but you can pick up a free digital copy from the iTunes App Store or Google Play.
Staff Writer at CinemaBlend.
Your Daily Blend of Entertainment News
Thank you for signing up to CinemaBlend. You will receive a verification email shortly.
There was a problem. Please refresh the page and try again.