Emperor Palpatine Has Been Pulled From Star Wars Battlefront 2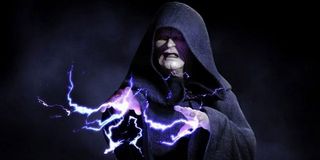 When Emperor Palpatine told Luke Skywalker, "you don't know the power of the dark side," it turns out even the leader of the Empire was not fully aware of those limits. In Battlefront II, for instance, the dude is so powerful that his trademark force lightning was blasting players through walls. Since a quick fix was not available for the issue, DICE has removed him from the game entirely, at least for the moment.
To be clear, Empie Palpie is going to be dropped back into the roster in Battlefront II at some point but, for now, there's no estimate on when that might actually occur. This news comes to us from the community forum (via Kotaku), where community manager Ben Walkie (a.k.a. F8RGE) explained that the developers had to use the "kill switch" to handle the situation.
Apparently, this isn't the first time Palpatine has caused trouble in Battlefront II. He demonstrated this same abuse of power early on in the game, with his lightning going through surfaces it wasn't supposed to be able to in order to damage enemy players. A fix was eventually rolled out that nerfed the ability, preventing his lightning from ignoring the laws of physics.
However, as recently as July 4, a new hotfix for the character was rolled out in order to make his abilities more effective at close range. It turns out that DICE throttled him back a bit too far, and this recent patch was intended to make him a more viable character once again.
As luck (or a lack thereof) would have it, this same patch returned Palpatine to his old tricks of shooting enemies through walls. Since quick patches were clearly not enough to address the issue, DICE made the choice to remove the character from the game while they work on him behind the scenes.
Walkie stated in the post that DICE did not make this decision lightly, but the team felt it was in the best interest of the community to disable the bugged character rather than just let him continue to screw up matches unchecked while waiting for a fix to be released.
The comments following this announcement have been mixed. Some are taking it in stride, joking that Palpatine took time off to enjoy the World Cup or even calling in "the guards" to prevent the removal of the Emperor. Others, though, feel these kinds of issues should be found in QA, complaining that patches intended to fix things continue to break other things.
Either way, we figure DICE made the right move here. If you let a bug like this continue in live matches while working on a fix, you're only going to build up ill will from members of the community who are frustrated by an OP Emperor flying about. Sure, it's kind of a bummer to lose a character for a while, but DICE seems confident he'll be back soon, and working properly this time.
Your Daily Blend of Entertainment News
Staff Writer for CinemaBlend.