Sea Of Thieves Cursed Sails Update Teases Skeleton Pirate Ships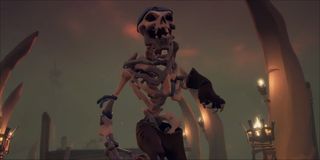 Rare and Microsoft have continued to support Sea of Thieves for the Xbox One and Windows 10. The game originally launched back in March and it was criticized for not having enough content at launch. But, Rare has been working on adding lots of new content to the game and tons of new ways to play and unlock new content for the open-world seafaring title. The latest update for Sea of Thieves will introduce skeleton pirate ships, and a brand new teaser trailer for the multiplayer game gives you a firsthand look at what the new skeleton pirates will be like, and a brief glimpse at the way they traverse the large open-world space.
Over on the Rare YouTube channel there's a near two minute trailer for Sea of Thieves: Cursed Sails. It starts with a skeleton pirate hobbling along the wooden pier, torches lighting the way under the jagged shaped bone-teeth arched on the sides like over-sized spider-legs.
We then see a number of other skeletons carrying supplies with them across the pier. They build a structure with a skeleton pirate strung up on a pole and leave a note there for all to see. After the torches are lit up with green flames, the crew of skeleton pirates skulk back to their ship and sail back underneath the waters. It's a really cool looking trailer that's put together quite well, leaving gamers with plenty of intrigue as to what's to come for Sea of Thieves: Cursed Sails.
The trailer rounds out with the release date for the new expansion, revealing that things will get underway on July 31st starting at 4 p.m. British Standard Time and 8 a.m. Pacific Standard Time.
The update features a huge change to the way the game plays out, as it adds NPC pirate ships to the vast waters. So, no longer will the ships you encounter only be manned by other players; some of these ships will be operated by skeleton pirates.
The skeleton pirate ships are all hostile and will hunt you down if they catch wind of you out on the seas. Some of them will even raid outposts and egg on other players to come out for a fight. This could be yet another feature from Rare to lure in gamers to work together cooperatively against the enemies of the virtual world.
This update will also be accompanied by a brand new ship being added to Sea of Thieves in the form of the Brigantine, which is a new ship designed for three players. It's one crew member larger than the Sloop and one crew member short of the Galleon.
Rare will also be adding in time-limited campaign missions, along with the new alliance system. The Cursed Sails event may only be available for a short time but the skeleton NPC ships and alliance system will be permanent even after the special event ends.
Rare also still has more expansions to release throughout the rest of 2018 for Sea of Thieves. So whether you're playing the Windows 10 version or on Xbox One, there will be a lot more to look forward to for the game in the coming months.
Staff Writer at CinemaBlend.
Your Daily Blend of Entertainment News
Thank you for signing up to CinemaBlend. You will receive a verification email shortly.
There was a problem. Please refresh the page and try again.