Xbox Adds A Pair Of Splinter Cell Games To Backwards Compatibility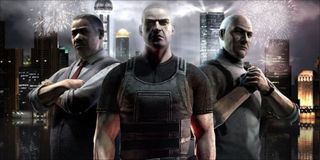 (Image credit: Ubisoft)
There are a couple of new games added to Microsoft's backwards compatibility list almost every single week. Usually, Microsoft makes it a habit to let gamers know what new games are being added to the library and giving them a reason to dig out some of their old favorites from the Xbox 360 disc stash. More games have actually been added to the ever-growing line-up of Xbox One backwards compatible titles, including two titles that will surely make stealth fans grin from ear to ear with glee, given that two of Ubisoft's highly beloved Splinter Cell games have joined the club.
Over on the Major Nelson blog there's a brief update from Major Nelson's Twitter feed for the Xbox One's backwards compatibility library, which now includes Splinter Cell: Double Agent and Splinter Cell: Blacklist. Both titles originally came out for the Xbox 360, but now you can play them on the Xbox One.
Fans were undoubtedly excited at the prospect of being able to play the two Splinter Cell games on the Xbox One. Splinter Cell: Double Agent originally came out way back in 2006 as a cross-gen title for the sixth generation of home consoles and for the seventh generation of home consoles. The OG Xbox and PS2 versions of the game were vastly different from what was available on the Xbox 360 and PS3. They were literally two completely different games for two different generations.
Nevertheless, Splinter Cell: Double Agent featured a slightly different take on the traditional stealth formula that had been established for the series. In Double Agent, gamers had more shooting and action-oriented segments, which some fans didn't quite care for. Ubisoft ramped up the action and blockbuster appeal in Splinter Cell: Conviction, which came out in 2010, four years later after several redos and do-overs. The game definitely moved in a direction that fans weren't entirely keen on, and even Michael Ironside, the voice actor for Sam Fisher, wasn't entirely thrilled with the action-oriented approach that Ubisoft was taking with the franchise.
The last Splinter Cell game to come out was Splinter Cell: Blacklist, which was originally released back in 2013. The game came out just ahead of the release of the Xbox One and PS4, so Ubisoft missed its window of opportunity for a cross-generational release. The company did manage to squeeze the game onto the Wii U, but that certainly isn't the same thing as having the opportunity to play the title on the Xbox One or PS4.
The game attempted to go back to the roots of the stealth game franchise, focusing on Sam taking out terrorists in the middle east. The game allowed you to approach missions either stealthily or in an action-packed way. However, the lack of Michael Ironside as Sam Fisher and the fact that they made the character younger was a turnoff for some gamers.
However, now that gamers have had time to warm up to Blacklist and Double Agent maybe Xbox One gamers will find them a lot more palatable? If you still have a copy of either game you can load them up right now. If you don't have a copy of either game you can purchase them digitally from the Xbox Store.
Staff Writer at CinemaBlend.
Your Daily Blend of Entertainment News
Thank you for signing up to CinemaBlend. You will receive a verification email shortly.
There was a problem. Please refresh the page and try again.