An Original Pokemon Booster Box Just Sold For An Insane Amount Of Money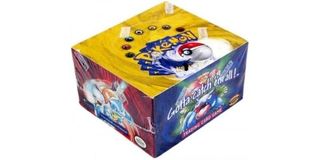 (Image credit: The Pokemon Company)
One would think that after more than 20 years of Pokemon that Nintendo and the Pokemon Company's brand would have diminished interests from gamers, card collectors, and tabletop enthusiasts alike. Right? Wrong. Apparently the Pokemon brand is as strong as ever, and it continues to lure in gamers looking for new, rare items to collect and big boxes of cards to acquire. One gamer in particular paid an insane amount of money in order to acquire an original Pokemon collector's edition booster box, and the price will likely make some gamers' heads spin.
Kotaku did an article about a first edition booster box of cards for Pokemon that sold for a total of $94,537. It initially sold for $56,000 with Huggins & Scott Auctions, but after the buyer's premium was added to the total, it brought it close to $100,000.
The listing is for a Pokemon first edition limited printing base set that's in pristine condition and features an unopened booster box. The near 20-year-old box contains 11 card packs containing five common cards, three uncommon cards, two energy cards, and one rare foil card. The winning bid was made after 15 bids were placed on this rare item between July 27th and August 10th. The opening bid started at $2,000. So, automatically, there was going to be a pretty high ceiling for who the clientele was going to be.
As noted by Kotaku, back in October of 2017 there was a first edition holographic Charizard card that sold for $76,396 on eBay, so there's a definitely a market for these rare Pokemon card items.
Buying and selling rare goods in the world of gaming is no rarity, though. It happens rather frequently, as someone just recently paid an insane amount of money for a rare skin Counter-Strike: Global Offensive. With the crackdown on the CS: GO gambling dens, it's become a lot harder to get one's hands on some of the uber-rare skins that move through the Counter-Strike marketplace. This caused some skins to skyrocket in price, as the opportunities to get a hold of those skins are becoming rarer and rarer, with the prices getting higher and higher as a result.
Many of the Blizzard games used to go through the same marketplace inflation, mostly back when games like World of Warcraft were at the top of the charts and a lot of gamers were in need of certain weapons or high-level characters, which sold for insane amounts of money, just the same as Everquest.
It's not too surprising that a game like Pokemon -- even the physical trading card aspects of it -- would garner some hardcore enthusiasts to come out of the woodwork to pay top dollar for a one-of-a-kind set.
This kind of rare purchase shows that, as time passes on, Nintendo's monster-collecting property still seems to be aging like fine wine. The cards get rarer. The prices get higher. And it appears some fans are willing to pay top dollar in order to get their hands on what's now considered a historical collector's item.
Staff Writer at CinemaBlend.
Your Daily Blend of Entertainment News
Thank you for signing up to CinemaBlend. You will receive a verification email shortly.
There was a problem. Please refresh the page and try again.