The World's Largest Pokemon Card Is Made Up Of 13,000 Single Pokemon Cards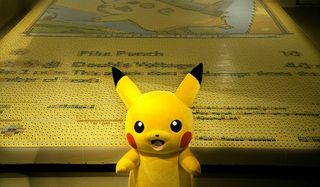 So there's a giant Pokemon trading card that's actually made out of thousands of other Pokemon trading cards, making it one of the most meta art installations on the planet.
Back when you collected Pokemon cards (assuming, of course, that you aren't still doing so), how big do you think your collection got? Well, The Pokemon Company recently rolled out a collection of about 13,000 cards that, when lined up properly, create the largest playing card known to man. Using mostly energy cards due to their limited color palletes, the Pokemon team has crafted a recreation of the original Pikachu card, complete with artwork and ability listings.
As Engadget points out, this behemoth of Pokemon goodness features a recreation of the illustration originally done by Ken Sugimori for the card game. The creation measures 23 feet by 32 feet all told, with exactly 12,987 individual cards used to pull off the feat.
Now a couple of questions remain: Where are they going to find a sleeve large enough to keep this Pikachu card safe? Also, is it tournament legal? Also, why not go for a super rare art installation by completing the image with foil cards exclusively?
Seriously, though, this bad boy wasn't created on a whim, as this is the 20th anniversary of the Pokemon series. The Pokemon Company and Nintendo have been busy celebrating this year, already launching some special legendary Pokemon through current games, announcing the upcoming Pokemon Sun and Moon and even launching the original Game Boy games for the Nintendo eShop. And let's not forget the fighting game, Pokken Tournament, as well as the upcoming mobile game, Pokemon Go. In short, 2016 is a great time to be a fan of the series, as everyone is going all out to remind us that Pokemon have been around now for two freaking decades.
There's no telling what else is planned for this year of celebration but, amidst all of the game-related news, it's nice to see special one-offs like this art installation popping up.
The giant Pokemon card is the creation of Quentin Devine, a British artist who is making a name for himself with mosaics like this one.
We realize that many of our readers are serious art connoisseurs, so now we'd like to turn it over to you folks for discussion. What do you think of this Pokemon homage? Would you have preferred to see a Pokemon other than Pikachu recreated, since that lightning rat always hogs the attention? Did I go too far with that "lightning rat" comment? Please let us know in the comments below.
Images courtesy of The Pokemon Company.
Your Daily Blend of Entertainment News
Staff Writer for CinemaBlend.