Don't Expect Dishonored 3 Anytime Soon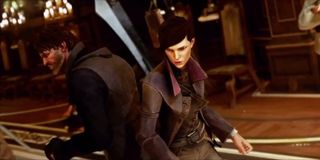 (Image credit: Bethesda)
In late 2016 Dishonored 2 released on the three major platforms, the Xbox One, PS4 and PC. Arkane Studios' stealth-action title was critically acclaimed by reviewers and managed to grab a lot of media headline attention, but it just wasn't enough to keep the brand on the radar of Bethesda, the publisher. According to a recent interview by one of the designers at Arkane Studios, if you were hoping to get more Dishonored and to experience more of the gritty world that Arkane came up with, you're going to be very disappointed to know that there aren't any plans for a Dishonored 3 anytime soon.
In an interview with VG 24/7, the lead designer at Arkane Studios, Richardo Bare, explained that Dishonored as a franchise is being put on hold for now...
This comes after reports that Dishonored 2 didn't quite light up the sales charts on home consoles and PC, as noted by GameRant. For AAA titles, those games are expected to move a certain number of copies, and if they don't then the publishers consider them a bust and put the brand on ice if it feels it's a valuable IP.
Last year a similar situation happened with Mass Effect: Andromeda, where the game managed to sell but not sell well enough to compensate for what was invested into it. Most publishers expect AAA games to sell upward of 5 million copies, and if they don't do that within a reasonable time frame, then the brands are put on ice. EA put the Mass Effect property in storage for now after Andromeda failed to capture the market's attention.
Dishonored 2 didn't quite light the market on fire either, but Arkane and Bethesda hoped to rekindle interest with Dishonored: Death of the Outsider, which came out last fall. The standalone expansion took place after the events of Dishonored 2 and saw players returning to familiar characters Billie Lurk and Daud. The standalone for home consoles and PC still didn't turn over the revenue page the way Bethesda likely expected, and so the decision for now is to have the Dishonored franchise "rest."
Bare also explained in the interview that right now the market is definitely themed toward multiplayer and live-services, and it's something just outside of the wheelhouse of Arkane Studios, which is typically known for making single-player experiences like Prey.
Bare doesn't rule out the possibility of adding in multiplayer features to future games, but also notes that just because some development studios squeezed in multiplayer into games designed as single-player outings still didn't help with sales, which is what happened with Yager's Spec Ops: The Line.
However, don't expect Arkane to jump into the pool of making stuff like Fortnite or PlayerUnknown's Battlegrounds. Bare notes that adding in community-oriented content such as sharing and social building is still a possibility, without sacrificing the aim of making single-player oriented narrative adventures. We're not sure what's next for Arkane but it doesn't look like it will be anything Dishonored related... for now.
Staff Writer at CinemaBlend.
Your Daily Blend of Entertainment News
Thank you for signing up to CinemaBlend. You will receive a verification email shortly.
There was a problem. Please refresh the page and try again.