What King K. Rool's Creator Thinks Of The Super Smash Bros. Ultimate Version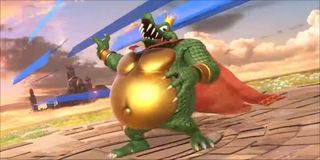 (Image credit: Nintendo)
The addition of new characters to the ever-growing, ever-expanding, ever-massive list of fighters in the Super Smash Bros. franchise has finally included a character a lot of people probably didn't expect to see make the cut: King K. Rool from the Donkey Kong Country franchise. The big baddie made his debut during a Nintendo Direct stream where he was introduced by picking off Kirby's arch nemesis, King Dedede. His appearance took a lot of people by surprise, and even the original creator of the character chimed in to talk about what he thought of King K. Rool making his big, bad, debut in Super Smash Bros. Ultimate for the Nintendo Switch.
According to Nintendo Life, the creator of King K. Rool, former Rare designer Steve Mayles, was actually shocked about his inclusion in the game, but thought he looked cool regardless...
The article notes that Mayles actually had no idea that Rool was even going to be in the upcoming Super Smash Bros. Ultimate. The designer had originally moved on to work on Yooka-Laylee at Playtonic Games, which was originally crowdfunded for home consoles and PC. So Mayles wasn't consulted with how to design Rool for the Nintendo Switch fighting game.
Mayles and the rest of Rare came up with King K. Rool way back in the mid-1990s when the original Donkey Kong Country released for the SNES. The 2D platformer utilized sprites based on 3D models that were rasterized for Nintendo's 16-bit console.
Despite Mayles being surprised at Rool's inclusion in the fighting game, he didn't rule out the possibility given that he was aware that King K. Rool also appeared as a Mii costume, so he was hopeful that Rool would appear in some capacity in Super Smash Bros. Mayles also expressed some mild disappointment for not being brought on to work with Nintendo to make the character, but he was still excited for Rool's inclusion on the ever-growing roster of fighters.
Rool joins a host of other characters, both those native to Nintendo's own IP -- such as Ness from Earthbound or Link from The Legend of Zelda -- and characters not Native to Nintendo's properties -- such as Solid Snake from Metal Gear Solid and Mega Man from Capcom's Mega Man series.
You can look to dive into Super Smash Bros. Ultimate starting December 7th, 2018 for the Nintendo Switch.
Staff Writer at CinemaBlend.
Your Daily Blend of Entertainment News
Thank you for signing up to CinemaBlend. You will receive a verification email shortly.
There was a problem. Please refresh the page and try again.