First Look At Black Cat In Marvel's Spider-Man's First DLC Trailer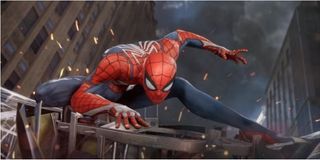 The first downloadable content pack for the upcoming release of Insomniac Games and Sony's Marvel's Spider-Man was finally revealed, giving gamers a firsthand glimpse into the triple-pack of content that the developers have planned for release throughout the rest of the year for the open-world super hero game. The very first content pack actually centers around a very familiar character from the Spider-Man universe, namely, Felicia Hardy, also known as the Black Cat. Not only do we know that she's featured in the DLC, but the very first trailer for the content went live, giving gamers a look at Insomniac's version of the popular character.
The trailer for Marvel's Spider-Man is rather short and to the point. It gives you half a minute's worth of cinematics featuring Felicia Hardy in her Black Cat getup, where she hops down after saying "Long time, no see" to Spider-Man, who responds quizzically and apprehensively with "Felicia?" She then tells him "Catch me if you can" and we get a clip of her on a subway car while Spider-Man attempts to web-sling and race his way through the tunnels to keep up. The clip ends with Black Cat making her way across the rooftops of Manhattan.
We then see that this is part of a three-part DLC expansion bundle called The City That Never Sleeps, which starts with the Black Cat DLC on October 23rd, titled The Heist, and then it will be followed up with Marvel's Spider-Man: Turf Wars, and it will round out with Silver Lining in December. The DLC can be purchased separately as part of the pre-order and digital deluxe bundles, as advertised over on the official website.
There are a couple of things worth noting in the trailer. For instance, we see that much like Spider-Man and some of his villains, Black Cat has undergone a noticeable makeover when it comes to her appearance and costume. Her latex face mask has been replaced with goggles, although it's debatable whether that's an upgrade or a downgrade compared to before (although I imagine while she's racing across the rooftops at night they help keep the bugs out of her eyes). The most significant difference between the old spandex bodysuit and the new outfit is the white armor. It almost looks like some kind of carbon fiber that outlines her shins, knees, and forearms.
The peculiar placing of the armor makes me wonder if this will tie into her story or the way she fights. Also, she has a Kevlar-like vest on to protect her torso, which is an interesting choice. It's definitely more heavily padded and armored than how her DC rival, Catwoman, has been depicted in games like Injustice 2 and the Batman: Arkham series.
I'm sure we'll find out a lot more once October 23rd lands and the DLC releases for Marvel's Spider-Man. The game is already receiving rave reviews ahead of its debut exclusively on the PS4.
Your Daily Blend of Entertainment News
Staff Writer at CinemaBlend.