Marvel's Spider-Man: The City That Never Sleeps DLC Coming This Fall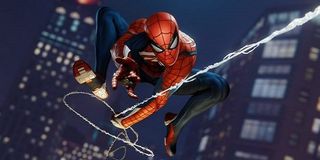 Marvel's Spider-Man is set to launch next week, but the web-slinger's adventures will continue into the fall as Insomniac Games announces DLC chapters known collectively as "The City That Never Sleeps." It'll include three batches of extra content, launched about a month apart, heading into the end of 2018.
Over on the PlayStation Blog, Insomniac Community Director James Stevenson has pulled back the webbing on post-launch plans for Spider-Man, which itself will be launching next Friday, Sept. 7. Insomniac is estimating that the core narrative will require about 20 hours to swing through without much lollygagging, but the team hopes to further extend the action through three DLC chapters.
Set to begin on Oct. 23, "The City That Never Sleeps" is basically Insomniac's fancy name for a season pass. The first chapter will be called "The Heist," with "Turf Wars" to launch in November and "Silver Lining" to hit the game come December.
What's interesting about this first DLC expansion is that it will actually be teased in the game proper. According to Stevenson, players will discover all sorts of little "clues" left around the city by Black Cat, who is attempting to toy with our friendly neighborhood Spider-Man. It sounds like these moments will be mostly separate from the main story, with Black Cat herself finally slinking onto the scene in October's "The Heist" expansion. This pack will include new missions and challenges, as well as a new faction of baddies to take down. Also included will be three additional suits to unlock for Spidey to wear.
I assume the remaining DLC will follow a similar pattern, dropping clues about what's coming next to the game world, and having the full picture revealed when "Turf Wars" and "Silver Lining" finally launch. It seems a bit odd to have such significant DLC set to run so quickly following a game's launch, but I figure these are side stories Insomniac wanted to tell that maybe didn't fit into the main narrative too snugly.
As for pricing, the whole "The City That Never Sleeps" bundle can be yours for $24.99, or you can grab each piece individually for $9.99 when they become available through the PlayStation Network. There's also the Digital Deluxe Edition of the game, which will include the DLC bundle for $79.99. Since the game itself costs $60, that means you'll get yourself a savings of about five bucks if you just buy the whole thing all at once.
Again, it sounds like the core game is going to be pretty loaded, but I understand why some folks seem to be up in arms about charging for DLC that, let's face it, is potentially already ready to roll. Feel free to share your thoughts on the upcoming launch and DLC plans in the comments below.
Your Daily Blend of Entertainment News
Staff Writer for CinemaBlend.