You Can Finally Use Amazon's Alexa To Control Your Xbox One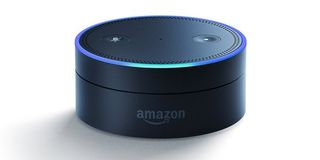 Microsoft has revealed that the Xbox One and Alexa are now best buds, meaning you can control your home console simply by talking to that device you keep asking for weather updates. It's a super simple process to set up, too, so get ready to chat up a lot more inanimate objects while enjoying your movies, games and the like.
The folks over at Xbox Wire broke the news heading into the weekend that Xbox One support for Alexa is now active. So if you've got, say, an Amazon Echo hanging out, you can bolster its functionality with a few simple steps. You'll want to hit up the original story, as they provide an additional link that will let you pop into your Amazon account and enable access to your Xbox account. From there, you'll simply sign into your Microsoft account to activate the Alexa skill and pair whatever device you're using with your Xbox One.
If you're thinking this sounds a heck of a lot like the functionality already available through Microsoft's Cortana, you are correct. The problem is that Cortana requires you to use a Kinect or a separate microphone. The Kinect is an issue since not many people own one and Microsoft is no longer making them. As for the microphone, not many folks want to watch Netflix with a pair of headphones strapped to their head, so this method can also feel a bit limited. If you've got an Alexa-enabled device in the corner, always listening (aaalways listening), then it's pretty obvious why that route is more appealing. Once it's paired to your Xbox One, you can just say your commands and, boom, it works.
Some of the examples given are powering your Xbox One on and off, launching games and apps, starting and stopping your broadcast on Mixer, controlling the volume, accessing various system destinations and even capturing screenshots and clips. As you walk into a room, you can simply say "Alexa, turn on my Xbox," and the console will fire up. By the time you sit on the couch and grab your controller, you can simply add, "Alexa, start Fortnite," and you're off to the races. While playing, you can tell Alexa to start your Mixer broadcast and you're immediately streaming to your followers. If you later manage an insane streak in Destiny 2's Crucible, you can simply tell Alexa to capture footage of your gameplay session and it'll be ready for editing later.
Assuming everything works as well as it sounds, we figure this will be a pretty attractive feature for folks who own or have been considering grabbing a device powered by Alexa. And similar to the new Adaptive Controller, let's not forget how voice commands make the various functionality for the Xbox One more accessible than ever. And if you're ever curious about the extent of your Alexa controls, simply say, "Alexa, ask Xbox what can I say," and you'll be told additional commands. Or, you could always just bypass the system and play Skyrim directly through the device.
Your Daily Blend of Entertainment News
Staff Writer for CinemaBlend.