Despite Rumors, Halo 5 Is Not Coming To PC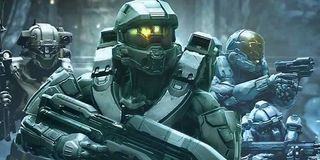 A recent box art refresh had led to speculation that Halo 5: Guardians will finally be making its way to PC, but a follow-up comment from Microsoft clarifies that Master Chief is still not ready to settle in on a new platform. In other words, PC fans might have to wait until Halo Infinite arrives before they can fight the Covenant with a mouse and keyboard in hand.
The folks over at Ars Technica (via CNET) stumbled upon a refreshed box art image for Halo 5 that popped up on Amazon. The artwork for the box cover remains the same, save for one small detail. The original image boasted a small banner stating "Only on Xbox One." The new banner, on the other hand, says "Xbox One Console Exclusive."
If that seems like a small distinction, you've got to consider how Microsoft has carefully phrased game announcements over the years. Go back and watch a recent E3 showcase to see what I'm talking about. Before each trailer, you'll hear a voice say either "Xbox One exclusive" or "Xbox One console exclusive." We've come to learn that the first tag means the only place you're going to be able to play this game is on an Xbox One. The second tag typically means a game is coming to Xbox One and PC, with the Xbox One being the only "console" the game is launching on.
So once Ars Technica's catch got the rumor mill turning, the folks over at CNET reached out to Microsoft directly for clarification. After having a word with a spokesperson, they came back with the official statement that Microsoft does not plan to bring Halo 5: Guardians to Windows 10 PC.
As you may recall from the Halo Infinite reveal during E3 2018, the next game in the Halo series is heading to a Microsoft platform as well as Windows PC. I'm being vague with the whole "Microsoft platform" business because Microsoft could very well be using the game as a key launch title for whatever their new platform is. Even more rumors are circulating that a new Microsoft platform could be ready to roll as soon as next year, which would make launching the big new Halo game on Xbox One seem a bit odd, unless they're going the Nintendo route, who have launched two Zelda games across a pair of platforms as the old was giving way to the new.
For the time being, though, we should probably just take Microsoft at their word and wait for any additional announcements to come directly from the source. For now, just plan on not playing Halo 5 on your PC.
Your Daily Blend of Entertainment News
Staff Writer for CinemaBlend.