Bethesda Confirms Wolfenstein III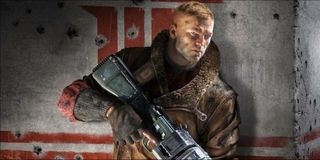 (Image credit: Bethesda)
After the release of Wolfenstein II, it seemed pretty obvious that MachineGames wasn't done with the series based on the way the story unfolded. The first-person shooter made a pretty big comeback in the last generation, having earned some big review scores from major critics and media outlets for its more realized story, despite having some over-the-top fantastical elements. After completing a number of other spin-off games and then getting back to Wolfenstein II, the game ended in a way that definitely left room for a complete trilogy, and according to Bethesda, there's going to be one.
In an interview with Metro, Bethesda's VP of marketing, Pete Hines, explained that there will be a Wolfenstein III in the works, saying:
The answer and revelation about Wolfenstein III actually came from a completely unrelated topic talking about how Bethesda is one of only a few big AAA publishers to focus on single-player, narrative-driven games, with the other two being Sony and Nintendo.
Hines acknowledged that Bethesda has a lot of single-player DNA at its core and that the company has not abandoned that. He goes on to explain that while Wolfenstein -- as a series within the last two generations -- is still heavily single-player focused, it doesn't mean that the team will be diverging from that with the release of Wolfenstein: Youngblood, which is a cooperative game following B.J's two daughters.
Hines was peppered with questions about the business strategy of releasing these kind of games during the holiday rush, where the titles are usually up against Activision's annual holiday sales juggernaut, Call of Duty, and occasionally Ubisoft's open-world adventure series, Assassin's Creed.
Metro felt that due to the time slot and lack of sales data, Wolfenstein II didn't do all that great, but Hines reassured them that it did well and wasn't a flop. This led to Metro asking about whether or not there were guarantees for a Wolfenstein III in order to complete the story, and that's when Hines confirmed the news.
So basically the break will come in the form of Wolfenstein: Youngblood and then MachineGames will finish off the mainline series with Wolfenstein III.
We don't have any information whatsoever on what the third game will be about, whether or not B.J., will still be alive or what role his two daughters will play in the overall outcome of the story, but I'm sure everything will become a lot clearer once Youngblood finally releases and we can see how the story and characterizations evolve from there.
In short, don't expect Wolfenstein III to launch anytime soon. In fact, given that the next outing won't arrive until 2019, it's entirely possible that we won't see the trilogy completed until 2020 or 2021, at which point I wouldn't even be surprised if it ended up releasing on the ninth gen consoles.
Your Daily Blend of Entertainment News
Staff Writer at CinemaBlend.