Wolfenstein: The Old Blood Preloading Begins, Here Are The System Requirements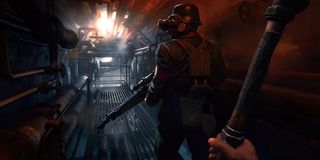 Wolfenstein: The Old Blood, standalone expansion pack to Wolfenstein: The New Order, will be arriving in just a few days. Today publisher Bethesda provided some important last-minute details about the game's launch.
They reiterated that The Old Blood is a separate experience from The New Order. You don't need to own or have played the 2014 shooter to dive into this one.
"There is no save file carryover between the two. If you're into great first-person shooter games, we'd certainly love you to play both. If you've played The New Order already, it'll be exciting to see how the early events of the game were set into motion. If you haven't played either, the $20 price tag gives you a great introduction into MachineGames' new take on the Wolfenstein universe."
Wolfenstein: The Old Blood will hit Xbox One, PS4 and PC on May 5th. You can pre-order and preload the files now. Bethesda suggests preloading if you want to play the expansion on day one, as it weighs in at around 40GB on all platforms.
If you're planning to get Old Blood on PC, here are the specs you'll need to run it:
Minimum Requirements
Intel Core I5-2500 @ 3.3 GHz or AMD FX-8320 @ 3.5 GHz
4 GB RAM
38 GB HD Space
NVIDIA GeForce GTX 560 or AMD Radeon HD 6870
High Speed Internet Connection
Recommended Requirements
Intel Core I7 or AMD FX-8350
8 GB RAM
38 GB HD Space
NVIDIA GeForce GTX 660 or AMD Radeon R9 280
High Speed Internet Connection
The requirements are actually a little bit higher than New Order's. The minimum specs for that game were a GTX 460 or Radeon HD 6850. I suppose this change doesn't really matter in the end, though. Whether you're right on the minimum requirements or just below it, you're probably going to have a poor experience either way.
Wolfenstein: The Old Blood brings the series back to World War 2. The player controls American agent BJ Blazkowicz as he battles the Nazi war-machine. His adventures will take him to Castle Wolfenstein as well as a Nazi archeological dig. The events of the game will directly lead into the beginning of The New Order.
Bethesda's put The New Order on sale numerous times throughout the past year. I wouldn't be surprised to see them offer another discount in time for Old Blood's launch to persuade people to pick up the game and its standalone expansion in one fell swoop.
Whether or not The New Order is on sale, though, I'd suggest buying it. Although it's single-player only, the lack of online didn't detract from the game at all. The lengthy campaign had a great story, fun weapons and enjoyable boss fights. In an era that's obsessed with online play, The New Order is a fantastic exception.
Your Daily Blend of Entertainment News
Staff Writer at CinemaBlend.