Watch SNL Make Fun Of A Clueless Parent Trying To Play Fortnite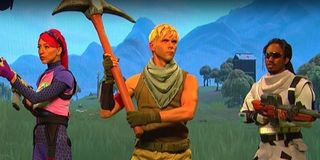 Saturday Night Live is finally back after a long summer break, and along with all of the insane U.S. politics, the cast also tackled one of the other biggest news items of the year: the insanely popular Fortnite. If you've ever wanted to see what it looks like when a completely clueless parent tries to drop into a round of Battle Royale, look no further.
This week's SNL was hosted by Adam Driver, best known these days as the Star Wars franchise's Kylo Ren and, more recently, officer Flip Zimmerman from BlacKKKlansman. The last time he was on SNL, Driver was the key figure in a now classic skit about Kylo Ren getting to know his "employees" on an episode of Undercover Boss. Only time will tell if this sketch is as successful, but it looks like he's done it again with this crack at Fortnite, which comically paints a situation that many players have become familiar with.
In the sketch, a group of young, hip Fortnite players have formed a squad on their quest to earn a Victory Royale. The youngsters are joined by WilliamMcTavish1972, a handle that is itself a bit of brilliant, spot-on writing. While some uncool fogies use their graduation year in their handles, I'm going to assume this was Mr. McTavish's birth year, which would put him at an appropriately uncool-to-youths age of 46.
I mean, he even holds the controller horribly wrong, offering up perfect banter about wanting to learn the game in order to connect with his son, as well as to appear cooler than the kid's stepfather, who is apparently pretty good at the game. All I know is, they put a heck of a lot of time and attention into those props and costumes for a segment that lasts less than four minutes. And the only inaccuracy from within the sketch was that none of the players had booming music cranked in the background like a freaking jerk.
At this point, Saturday Night Live basically had to do a Fortnite skit, as it has become one of those rare games to obliterate the norms and become a household name. As it went with freeware games Angry Birds and Minecraft before it, one would be hard-pressed to find a kid or parent who is not aware of what Fortnite is, even if they fall into the McTavish category of not really knowing any specific details about it. We've got parents hiring professional Fortnite tutors for their kids, and the game is even being referenced in a growing number of divorce cases here in the United States so, yeah, it's kind of a big deal.
Outside of ruining our kids' minds and our adults' relationships, it's been a huge year for Fortnite. Once folks stopped assuming it was just another PUBG clone, its unique mechanics and more lighthearted aesthetic proved to be a winning formula, helping make it one of the biggest successes in the history of games. And the regular updates keep the gameplay from ever getting stale.
Fortnite is now available on just about every platform known to man, and even more players have been joining the fold as the game launches into its Halloween-themed sixth season. We're just waiting on an announcement from Dreamworks that a film is on the way, as that seems like the natural progression at this point.
Your Daily Blend of Entertainment News
Staff Writer for CinemaBlend.