Super Mario Party May Be Causing A Shortage Of Nintendo Switch Joy-Cons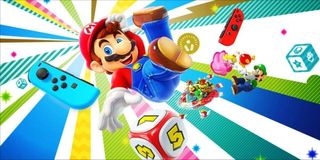 (Image credit: Nintendo)
The Nintendo Switch's Joy-Con controllers are super expensive. Each pair will run you $80 real breezy. It's definitely an expensive replacement device but apparently some people are plopping down big bucks for the left and right pair of Joy-Cons because Super Mario Party may be causing a shortage of the controllers.
According to Nintendo Soup, there's been an increased demand for the Joy-Con controllers shortly after the release of Super Mario Party for the Nintendo Switch. The site also notes that many European nations such as Italy, France, Denmark, and even the United Kingdom have all run out of almost every single color of the Joy-Con with back-orders stretching up to two weeks.
This alone doesn't sound like much, and it could be that a bunch of people are simply stocking up on controllers in preparation for the release of Super Smash Bros. Ultimate, right? Wrong.
Apparently, Nintendo Soup is also reporting that Japanese retailer, GEO, has reported an increase in sales of the Joy-Con following the release of Super Mario Party. How much of an increase? A 300% increase.
Nintendo Soup speculates that due to the game supporting four-players and multiple Joy-Cons that it has resulted in the controllers selling out of retail shops and game stores.
It seems like a bit of a stretch, but a lot of it would depend on the sales of Super Mario Party. According to Nintendo Life, the game has sold more than 142,000 copies during the first week of launch in Japan, which is pretty decent numbers for a Japanese release, especially given that it beat out games like Assassin's Creed: Odyssey and Marvel's Spider-Man. It's completely possible that the game's high sales were accompanied by a surge in sales for the Joy-Con controllers.
Alternatively, it's completely possible that some gamers are playing the game, getting angry at losing because they were half a second off from winning the mini-game after coming so close to beating their arch-rival, and then in a fit of rage they tossed the $80 Joy-Con at the wall and watched it get smashed to smithereens. That's possible... right?
There have been plenty of games in the past that have caused gamers to rage-quit like nobody's business. The original N64 release of the Mario Party game was good for making people rage-quit, along with games like Super Meat Boy or Dark Souls. Could rage-quitting have an impact on the Joy-Con controllers getting broken, thus forcing people to buy more?
The reviews for Super Mario Party have generally seemed to corroborate the belief that the game will test friendships and very well make people rage in frustration due to the frenetic entertainment values.
It's such an odd occurrence, but the sales numbers obviously don't lie. People are definitely buying a lot of Joy-Con controllers following the release of Super Mario Party. If Nintendo is making big bank on an increase in Joy-Con sales due to Super Mario Party, I'm sure there's nothing but smiles and laughter in the board room.
Your Daily Blend of Entertainment News
Staff Writer at CinemaBlend.