Injustice 2 Concept Art Reveals John Constantine, The Penguin And Other Scrapped Characters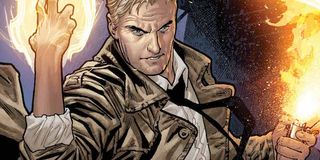 Injustice 2 has a loaded roster, but not every character that was being kicked around in concept made it into the game. Artist Justin Murray's work blog actually shows off quite a few that hit the cutting room floor. Not to be too greedy, but it would have been pretty rad to see pretty much any of these characters make it into the actual game.
I'm going to cherry pick a few pieces of Murray's concept art to show off here, but I highly recommend you drop by his blog to see all of these great designs in their full, uncut glory. The Injustice series falls on the dark and gritty side of the DC universe, and all of these designs perfectly match the game's aesthetics.
Above you'll see Detective Chimp in what Murray has listed as "War Ravaged." This is a pretty badass character, with some fantastic tattoos and a revolver that's half the size of his head. Maybe the team at Netherrealm Games thought that since Gorilla Grodd was already in the game, they had reached their super-smart primate quota. Also, dang, this looks just like one of the characters in the new Beyond Good & Evil game.
Next you'll find one of the most surprising entries of the lot, Krypto. Krypto is Superman's trusty canine companion and, again, I love Murray's take on the character. Krypto still looks like a sweet puppy, but his traditional red cape has been replaced with something a bit more alien. If you take a look at his full design, he was given interesting body redesigns as well, further driving home the idea of him being an alien creature. Smaller combatants can be tough to make work in a fighting game, but we appreciate the thought here.
Third, we have a character that seems almost criminal to have been left out of the mix. But, then again, Injustice 2 did really well and we're almost certainly getting a third game in the series, so it's probably best to hold a few of the classics back, just in case. I am of course talking about The Penguin, one of Batman's most beloved rivals. Sure, he'd probably be a bit on the slow side but, as is shown off in the full design art, he'd have a heck of a lot of umbrellas to rely on. Similar to The Joker, I imagine Penguin would be a fantastic prop fighter.
Before I get to the final concept, I feel I should reiterate that you should go check out the full blog. It's got a bunch of cool original work, character designs from other projects, other characters that never made the Injustice cut like Professor Zoom, and even some looks at character that are actually playable, like Red Hood, Mr. Freeze and Doctor Fate.
Still, this next one breaks my heart, as I think he would have been an absolutely fantastic addition to the Injustice 2 lineup, John Constantine. Whether you know him from the Hellblazer comics, the animated movies or the live-action series/movie, Constantine is a rad character who is decent in a fight and absolutely brutal when he starts wielding the magical arts. I imagine Netherrealm could have had a lot of fun designing his abilities and, similar to Penguin, I'll just hold out hope for his arrival in a potential sequel.
Stay tuned to CinemaBlend for any updates regarding the Injustice games, including if any of the characters mentioned in this piece ever become available for play.
Staff Writer for CinemaBlend.
Your Daily Blend of Entertainment News
Thank you for signing up to CinemaBlend. You will receive a verification email shortly.
There was a problem. Please refresh the page and try again.