Watch Red Hood Take Out His Anger On Batman And Robin In The New Injustice 2 Trailer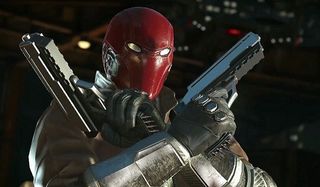 Injustice 2 already has a large, diverse roster of heroes and villains to choose from but, being a modern fighting game, you better believe that the selection is only going to grow through the addition of DLC characters. The first to get their own trailer is none other than Red Hood.
I wasn't too keen on Red Hood as a DLC character for Injustice 2 until I saw this trailer. In short, he's a gun-slinging villain that looked a little too similar to existing characters, Deadshot and Harley Quinn. If that second one has you feeling a bit confused, Harley uses dual pistols to great effect in Injustice 2 rather than the bats and mallets she's become known for. She still breaks out those melee weapons from time to time but, for the most part, she's all about farming lead.
Now that I've seen Red Hood in motion, though, it's clear that he plays very differently from those other two characters. Whereas Deadshot and Harley complement their other moves with some gunplay, Red Hood brings his sidearms into play constantly, making for some interesting combos. I mean, did you see that bit where the gun jammed and he threw it at Robin? Classic.
Anyway, as you can see above, it looks like NetherRealm Studios is getting ready to launch Red Hood as their first DLC character. I only say this because he's the first to get a solo trailer. It might be that the other two already named DLC characters will get their own trailers soon and then come out as a collection.
Actually, the more I think of it, the more it seems like the latter is a stronger possibility. NetherRealm has only announced three DLC characters so far, but they've shown the silhouettes of six other characters. Bringing them out in groups of three every few months might be the plan for the road ahead.
As for the confirmed DLC characters, we've still got Starfire and Sub Zero coming. Starfire is probably best known as one of the Teen Titans while Sub Zero hails from another NetherRealm fighting game, Mortal Kombat. The first Injustice had Scorpion as a DLC character, so it makes sense that the team would want to keep that tradition alive. I've got my fingers crossed that Scorpion is one of those remaining DLC characters, too, as I really liked the way he played in the original Injustice.
All anybody can do is guess at those remaining six characters, though some popular theories include the likes of Beast Boy, Enchantress and even another Mortal Kombat character, Raiden.
So, readers, what do you think of Red Hood now that you've seen him in action? Any other DC characters you hope to see show up in Injustice 2? Let us know in the comments below.
Staff Writer for CinemaBlend.
Your Daily Blend of Entertainment News
Thank you for signing up to CinemaBlend. You will receive a verification email shortly.
There was a problem. Please refresh the page and try again.