Soul Calibur VI Reviews Are In, Here's What The Critics Think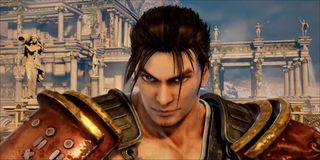 (Image credit: Bandai Namco)
Bandai Namco's latest entry in the long-running sword, shield and spear-fighting game series has made its way onto store shelves for the Xbox One, PS4, and PC, and gamers and critics alike have been chiming in to give their feedback on what they think about Soul Calibur VI.
The scores from most sites aren't dripping with 10 out of 10s or 100 out of 100s, but it comes awfully close from a few notable outlets. Game Revolution, for instance, loved the Soul Chronicle story mode, which the outlet noted gives each of the main characters an opportunity to shine on the grand stage. It also enjoyed the RPG-like Mission Mode, too, calling it the "real meat" of the game. The review rounds out with a 4.5 out of 5, stating:
The review did criticize the multiplayer component for not being quite as in-depth as they were expecting. This is due to the focus mostly on single-player content. There's still a ranked mode for gamers who want to test their might against other players, not unlike Tekken 7 or NetherRealm Studios' Mortal Kombat X, but there aren't a whole lot of other options when it comes to the online multiplayer component.
The Escapist also shared similar sentiments, scoring the game an 8 out of 10 for having a "modest" yet "rewarding" cache of single-player modes, and a "lucrative" helping of missions to keep players coming back for more.
Other sites seemed to echo the sentiments that the heart and soul of Soul Calibur VI rests in the flashy one-on-one fights that always seem to entertain.
Variety notes that the gameplay refinements and improvements to the flow of combat are a true highlight in the latest outing, especially with the inclusion of the Reversal Edge that allows players to execute a rock, paper, scissors style combo-breaker/counter system not too dissimilar from the wager system in Injustice 2. This helps give newbies something to utilize against combo-heavy veterans, and it gives veterans something to utilize in order to maintain an edge over difficult opponents.
Variety notes that it doesn't reinvent the wheel, but a lot of carry-over features from Soul Calibur V and improvements to the overall combat make it a worthwhile winner:
Soul Calibur VI also brings back the character creation system from Soul Calibur V. The creation system has been a widely popular feature in the series, and Namco was smart to give gamers an opportunity to make their own custom character, or attempt to recreate other popular characters, such as the fan-favorite internet sensation Bowsette
As pointed out by Game Informer, there's enough content in the game to actually consider it "bloat," which is probably something gamers would appreciate for the $60 entry price. But the review from Game Informer also praises the title for being a game that will appeal for both newbies and veterans alike, scoring it a 8.75 out of 10:
It sounds like Namco hit almost all of the right buttons in creating Soul Calibur VI as a worthy successor to the 2012 outing for Xbox 360 and PS3. For gamers interested in picking up a copy, you can grab Soul Calibur VI for the Xbox One, PS4 and PC.
Staff Writer at CinemaBlend.
Your Daily Blend of Entertainment News
Thank you for signing up to CinemaBlend. You will receive a verification email shortly.
There was a problem. Please refresh the page and try again.