The Spyro Reignited Trilogy Is Missing Something Important To A Lot Of Players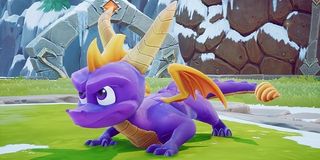 While Spyro: Reignited Trilogy enhanced some classic adventure games with shiny new visuals and a lovely new score, it looks like someone forgot to include consistent subtitles. If you're hoping to read the dialogue as the adventure unfolds, you're out of luck through much of the games' cutscenes.
In a day and age when more and more developers strive to make their games accessible to more and more people, it seems kind of odd that Activision and Toys For Bob would totally drop the ball on including subtitles for Spyro: Reignited Trilogy. That seems like a prerequisite at this point, yeah?
But that's apparently what has happened, as pointed out by GamePitt's Rob Pitt. Pitt was working his way through the Spyro games when he noticed something seemed off about the new trilogy. Like pretty much everyone else who played the game, Pitt was having a jolly 'ole time, noting that the game boasted remastered visuals, fresh audio, the ability to play with the original score, even better enhancements via support for the Xbox One X and PlayStation 4 Pro and the ability to play the game in multiple languages.
Pitt, however, typically likes to play his games with subtitles on. He does not have a hearing impairment, he just likes to read along with the story and still know what the heck is going on if the room he's in gets loud or the volume needs to be turned down at night. But what he discovered is that, unless the game is offering some sort of tutorial, the dialogue is not available in subtitles.
For a player who actually lives with a hearing impairment, this is probably an extremely frustrating issue and, again, it's kind of baffling it even exists. But sometimes things fall through the cracks despite the best intention of developers. I'm one of those people who have to play with the Y-axis inverted, so I literally can't pick up a game that doesn't have that as an option. That's something I haven't had to deal with in a good long while and, the last time it happened, the developer admitted that it was simply something that nobody on the team realized was missing. The game went through the usual QA but, since nobody on the team inverted the Y-axis, even those folks didn't realize it was missing.
Subtitles are quite a bit more important, though, as they allow way more people to enjoy a game. As far as accessibility goes, it seems like one of the easiest considerations to make sure you include in your game. What's frustrating is that, when Pitt reached out to the team, their response was super unimpressive. The response starts out like an advertisement for the game before noting that there's no "industry standard for subtitles" and that they "will evaluate going forward."
Staff Writer for CinemaBlend.
Your Daily Blend of Entertainment News
Thank you for signing up to CinemaBlend. You will receive a verification email shortly.
There was a problem. Please refresh the page and try again.