The Super Mario Bros. Theme Played On A Guitar Made From A NES Console Is As Awesome As That Sounds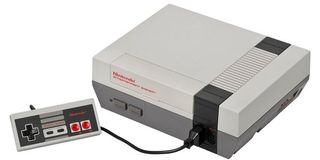 Some creative individuals really step outside the boundaries of everyone's expectations and do something you would never think possible, such as playing the theme to the original Super Mario Bros., on a guitar fashioned out of an NES console.
The video was put together and posted up on Rob Scallon's YouTube channel. He starts the video in a hilarious way by searching online for "weird guitars," and he ends up coming across an NES console that was turned into a guitar. And it's literally an old gray NES that has been turned into an electric guitar, complete with the ports still intact.
The guitar isn't just a real guitar with a Nintendo shell on it. It's actually a working Nintendo console that's also a guitar. Rob Scallon and his buddy got the guitar off of the site Reverb. Actually, Reverb contacted the maker of the guitar and asked Scallon if he would be willing to play the guitar on his channel, and he agreed, but only if the guitar actually played NES games. And it does!
It turns out that while the shell is of the old bulky console that Nintendo released back in the 1980s, the gaming aspects of the Guitendo is actually based around the NES Classic Edition emulator. So that it's possible to play the games while you play it.
In a separate video Scallon goes through the details of how the guitar functions, along with having his friend actually playing the game while he plays the guitar.
Later in the video Scallon attempts to play all of the sound effects from Super Mario Bros. 3 while his friend plays the game.
As an off-the-cuff experiment, it works a heck of a lot better than you may have been expecting. But it still sounds like someone is playing a guitar while someone is playing the NES.
The modded version of the NES Classic Edition tucked away inside the guitar also has power and reset buttons inside the cartridge housing, so you can literally turn it on or reset the system while you're playing the guitar.
Scallon is doing a giveaway of the guitar on behalf of Reverb, so you'll get a fully functional electric guitar along with a modded version of the NES Classic Edition with a bunch of games on it. The giveaway is going on right now and will last throughout the month, so if you wanted to get your hands on it, now would be a good time to do so.
The entire thing wraps up with Scallon saying that the guitar is "out of tune" and proceeds to open the cartridge bay and performs the iconic blow into the system to get it working again. Classic.
Staff Writer at CinemaBlend.