The 2018 Game Awards Winners: See The Full List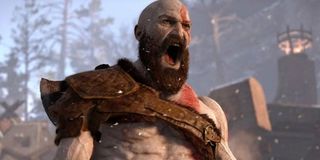 The 2018 iteration of The Game Awards aired Thursday night, Dec. 7, with 31 awards announced throughout a night filled with music, touching speeches and oodles of game trailers. It was a packed show that lasted nearly three hours, but we've gathered all of the award winners into one convenient location for you.
After Red Dead Redemption 2 seemed to be sweeping the show, Kratos stormed onto the scene with a surprise twist of fate, earning the evening's top spot as the Game of the Year. This will likely spur on a number of thinkpieces in the coming week but, for now, let's get through the rundown of all of this year's winners.
The Game Awards 2018 Winners
Game of the year: God of War
Best game direction: God of War
Best narrative: Red Dead Redemption 2
Best performance: Roger Clark as Arthur Morgan in Red Dead Redemption 2
Best score/music: Red Dead Redemption 2
Best audio: Red Dead Redemption 2
Best art direction: Return of the Obra Dinn
Best ongoing game: Fortnite
Best multiplayer game: Fortnite
Best independent game: Celeste
Best action/adventure game: God of War
Best action game: Dead Cells
Best roleplaying game: Monster Hunter World
Best sports/racing game: Forza Horizon 4
Best fighting game: Dragon Ball FighterZ
Best family game: Overcooked 2
Best strategy game: Into the Breach
Best mobile game: Florence
Best VR game: Astro Bot: Rescue Mission
Best debut indie game: The Messenger
Games for impact award: Celeste
Industry Icon: Greg Thomas of Visual Concepts
Content Creator of the year: Tyler "Ninja" Blevins
eSports player of the year: SonicFox
Best esports team: Cloud9
Best esports game: Overwatch
Best esports event: League of Legends World Championship
Best esports host: Shockz
Best esports coach: Reapered
Best esports moment: C9 comeback win in triple OT vs Faze
Best student game: Combat 2018
The first surprise of the night came when Monster Hunter World took home the prize for the best roleplaying game of 2018. Don't get me wrong, I adore MHW, but many would argue it's not exactly an RPG and, more importantly, it was up against the Nintendo Switch darling, Octopath Traveler. Other big moments from the night included an excited and clearly terrified speech from the fursuit-wearing eSports player of the year, SonicFox, a genuinely touching acceptance speech from the team behind the best independent game, Celeste, and a really nice retrospective on the career of this year's Industry Icon, Greg Thomas.
Music was also a big part of the night, with an orchestra providing a soundtrack to the proceedings and a couple of live performances for music from games like Devil May Cry 6, Red Dead Redemption and more. Oh, and a Muppet had a chat with Ninja, so that was pretty fun.
On top of all of that, the show was absolutely packed with trailers including known quantities like the new season of Fortnite, a Crash Team Racing remaster and the heavily teased post-apocalyptic Far Cry, as well as a whole bunch of surprises including the Switch exclusive Marvel Ultimate Alliance 3 and a whole bunch of indie games that look absolutely fantastic. And then Nintendo goes and announces that Joker, from Persona 5, will be the first DLC character in Smash Bros. Ultimate. If you missed any of the trailers, we've also gathered them into a single post for your viewing convenience.
All told, this was probably the best year for The Game Awards yet. They still need to make some adjustments but, as a celebration of gaming, it's getting the job done.
Your Daily Blend of Entertainment News
Staff Writer for CinemaBlend.