Journey Coming To PS4 This Month, Here's How To Get It For Free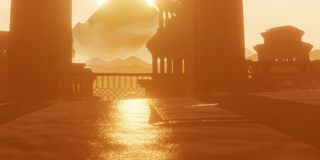 The breakout indie hit from 2012, Journey, is finally soaring onto the PlayStation 4 this month, bringing with it all of the magic and wonder that made the game such a talked about experience three years ago. Oh, and many of you will be able to dive back into the desert free of charge, too.
Announced today through the PlayStation Blog, thatgamecompany's Journey is set to arrive on Sony's home console in just a couple of short weeks, launching July 21. Don't expect a "director's cut" full of additional challenges, leaderboards or other nonsense, though. Based on the description from Santa Monica Studio Community Specialist Aaron Kaufman, it sounds like folks should expect the PS4 version to be the exact same game that caused so many waves on the PlayStation 3, only looking better than ever on the beefier hardware.
That's fantastic news, actually, as Journey is one of those games that should be left the hell alone.
"But wait," I hear you say. "Why would I pay more money for basically the same game?"
Well, that's kind of the beauty of Journey's, um, journey to the PlayStation 4. This spruced up version of the game is actually cross-buy, so those of you who already own Journey on the PS3 will be able to download the PS4 version at no extra charge when it launches on July 21.
And in case you're wondering what all of the hubbub is about, thatgamecompany has actually started up a pretty nifty campaign designed to share players' experiences with the rest of the world. It's called #OurJourney, and you can get all of the finer details by visiting the official website right here.
In short, the developer wants people to record a short video explaining "What your Journey experience meant to you." After that, simply post it on YouTube, Twitter, Facebook or Instagram and tag it with #OurJourney. Many of those videos will then be pulled into a compilation, which can be viewed on the #OurJourney website linked above. So if you've ever wondered why Journey is still being talked about three years after its original launch, you'll have the opportunity to find out firsthand from folks who made a deep connection with the game.
To help get the ball rolling, I'll leave you with this video from Creative Director Jenova Chen, who explains why Journey was so important to him.
Your Daily Blend of Entertainment News
Staff Writer for CinemaBlend.