Epic Games Is Launching A Steam Competitor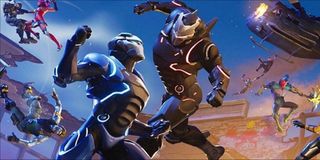 (Image credit: Epic Games)
Epic Games has been rocking and rolling in recent times, especially after the massive success of Fortnite's Battle Royale mode went viral. The global sensation has enabled Epic Games to accrue enough funds to start its own distribution service, which is aiming to rival Steam.
Game Informer is reporting that Epic Games has made enough money to put into motion the plans to start its own digital distribution network, creating a store where it offers gamers the ability to purchase more than just its own developed games.
The big news about the storefront is that it will offer developers up to an 88% revenue split, which means that for every copy a third-party developer sells through Epic's store, Epic only keeps 12% of that revenue.
If that seems high, keep in mind that the average distribution cut between physical retailers and digital retailers is anywhere between 20% and 30%, with most big-name outlets taking a 30% cut of the revenue share. Typically this is how it's setup with Steam, with Valve taking 30% of the revenue share from the sell-through of a copy.
Recently, Valve updated its terms of service for developers, offering more reasonable cuts as a way to be lenient in the revenue that publishers and developers take home. For instance, there's a new upper limit for the revenue share for games that sell $50 million worth of revenue earning a developer an 80% revenue share, which is still lower than the share offered by Epic Games, but it means that at a $60 price point a game would have to move close to 85,000 units to earn an 80% revenue share adjustment. Valve also has it setup where games that move $10 million worth of product, the revenue share will raise to 75%.
The standard share is 70% across the board, but with Epic Games it will be 88% across the board. Obviously there's a huge incentive for developers to either ditch Steam or at least put their games on Epic's new service for additional revenue share.
Another big change is that Epic won't be taking Unreal Engine 4 royalties any more from games sold through its own storefront. The 5% royalty fee will be rolled into the 12% distribution fee that Epic will take from the game selling through its new storefront. At the moment, Epic takes a 5% royalty fee for Unreal Engine 4 games sold through third-party distribution services such as Steam or EA's Origin.
Game Informer is reporting that games sold through the new storefront won't be limited to just Unreal Engine games, though. GameMaker games, RPG Maker games, Unity 3D games, CryEngine games, and other custom-engine games will also be able to sell through the new Epic storefront.
The company also plans on creating a Support-A-Creator program in case developers want to promote a revenue share percentage toward YouTubers and content creators who make content based on the developer's game.
Also, opposite of Steam, Epic will have employees in place to hand-curate games that will appear on the storefront. There's really no telling how that will turn out, but it's definitely going to be an alternate distribution platform to Steam. It's quite amazing that Epic has gone from selling mainstream AAA games like Gears of War, to making billions from a free-to-play game like Fortnite, and now the company will be competing head-to-head with Valve on Steam.
Staff Writer at CinemaBlend.
Your Daily Blend of Entertainment News
Thank you for signing up to CinemaBlend. You will receive a verification email shortly.
There was a problem. Please refresh the page and try again.