Sci-Fi Game Teased In Watch Dogs 2 Looks To Be Canceled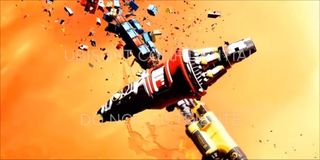 Back in 2016 when Watch Dogs 2 came out, there was a tease for a special Ubisoft product within the game. Literally, there was an actual teaser stuffed within the game for another game. It was quite meta. However, according to a former creative director at Ubisoft, it appears the sci-fi game that was teased may never actually come out.
Alex Hutchinson broke the news by dropping a confidential E3 trailer for what would have been Pioneer, the sci-fi title that Ubisoft teased during a mission in Watch Dogs 2. The trailer was posted up on Hutchinson's Twitter account with the simple sentence "RIP Pioneer" and a crying face emoji.
The trailer embedded into the tweet is just barely a minute long, and it's from the original leak that was featured during a mission in Watch Dogs 2, where Marcus attempts to infiltrate the game publisher's servers and lifts an unreleased trailer from the company to see what they're working on.
The mission had a meta-element to it insofar that the trailer featured in Watch Dogs 2 was apparently a hint at a real game that Ubisoft was working on called Pioneer. The game appeared to be a space sci-fi game featuring different vehicles traveling throughout the solar system, and obviously encountering some hardships along the way that can result in the destruction of the ship.
The thing is, we never really knew much of anything about the actual gameplay. Visually the game had the bright colors and palette that we've seen in games like No Man's Sky, or Kerbal Space Program, or Star Control.
As far as mechanics are concerned, even though we got to see some cockpit views within the trailer, it didn't look like it was going to be much of a space combat sim like Elite: Dangerous.
According to Destructoid, the reason for the lack of information wasn't just part of some top-notch marketing ploy, it was because Ubisoft was already on the verge of canceling the game even during its initial reveal within Watch Dogs 2.
Now just because Hutchinson tweeted out that the game is canceled doesn't necessarily mean it's dead and gone for good. There's always the possibility that Hutchinson could be teasing fans, but that would only really work if he were still working at Ubisoft. He hasn't had anything to do with the company since heading up Far Cry 4 from back in 2014, which was half a decade ago. At the moment Hutchinson is working with the creative team at Typhoon Studios on the upcoming game Journey to the Savage Planet, which debuted during the 2018 Game Awards.
Of course, given that Ubisoft hasn't made any announcements about Pioneer in the last three years and since it was already reported that Ubisoft was already on the verge of pulling the plug back then, it doesn't seem too far a stretch that the game is no longer in development. It would be cool if we had some sort of gameplay trailer to really see what the game was like before it got canned.
Your Daily Blend of Entertainment News
Staff Writer at CinemaBlend.