Fortnite Made An Insane Amount Of Money Last Year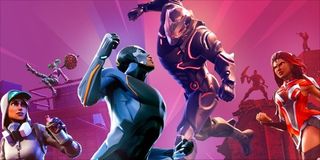 (Image credit: Epic Games)
Epic Games is constantly in the news for the success that is Fortnite, sometimes for better and sometimes for worse. This time, however, the company is making headlines for how much money the Battle Royale-themed free-to-play shooter managed to rack up throughout 2018.
According to Deadline, Epic Games managed to generate $2.4 billion in revenue throughout 2018. This comes from a market report published by Nielsen Media's SuperData, which saw Fortnite top out the chart of free-to-play games throughout the year, followed by Dungeon Fighter Online from Nexon, a long-running multiplayer hack-and-slash beat-'em-up that was a very distant second. Nexon's title may be popular, but it was nearly $1 billion behind Fortnite, topping out at $1.5 billion in revenue. Obviously, that's no laughing matter, and nothing to scoff at in terms of the money generated.
Riot Games and Tencent literally tied with Nexon, as League of Legends also generated $1.4 billion, while Niantic Labs' Pokemon Go came in fourth place at $1.3 billion. Neowiz Games' first-person shooter Crossfire also tied with Pokemon Go at $1.3 billion, along with Tencent's Honour of Kings, a multiplayer online battle arena game.
Aniplex's Fate/Grand Order was seventh on the list with $1.2 billion, followed by Activision and King's Candy Crush Saga at $1.1 billion, and Mixi's Monster Strike hitting $1 billion even. Tencent rounded out the list with Super Cell's Clash Royale at $900 million.
This basically showcases just how much the Battle Royale genre is worth when done right, and apparently, Epic Games has done right with Fortnite, easily surpassing some of the other MOBA and free-to-play games that previously dominated the industry.
The article notes that the battle passes that Epic sells for Fortnite has regularly seen U.S. players purchasing said packs. In fact, there's a 34% attachment rate to the battle passes from U.S. players.
It was also noted that free-to-play games, in general, accounted for 80% of all of the digital game revenue across every major gaming platform, including home consoles, PCs, and mobile devices.
Out of the $87 billion that the gaming industry generated in 2018, $17.9 billion of that was generated from PC gaming, and obviously Fortnite played a significant role in that.
Despite all the money generated from the cash shop and battle passes, Epic Games isn't entirely in the clear with the free-to-play, third-person, build-and-shoot Battle Royale game. The company is currently being sued by a number of individuals for the dances featured in the game.
There's really no telling which side of the legal coin Epic will come out on, but the lawsuits keep stacking up, which could end up hurting the company, in the long run, depending on how things turn out.
However, for the time being, Epic seems to be in a pretty good place and moving in the right direction as far as business growth is concerned. The company is also attempting to compete with Valve by opening up the Epic Games Store, which had a lot of help as a launching pad thanks to Fortnite being tied into the launcher for the store, which is similar to how Steam got its start with Half-Life 2. The major difference is that Fortnite has become a heck of a lot bigger in a much shorter amount of time than Half-Life 2.
Your Daily Blend of Entertainment News
Staff Writer at CinemaBlend.