Watch Darth Maul Play Beat Saber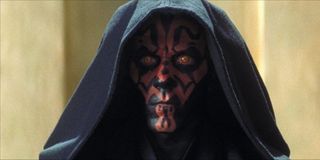 We haven't seen much of Darth Maul in recent times save for a minor cameo in Disney's take on Star Wars, but apparently it's because he's been busy getting in shape with the PlayStation VR. Yes, actor Ray Park has made headlines recently for putting in some work and lightsaber-style practice with the game Beat Saber.
In the video that was posted up over on Ray Park's official Instagram account, the actor and martial artist showcases his skills playing Beat Saber for the very first time on Sony's PlayStation VR headset.
In the short clip, we see that Park doesn't really rely on any of his stick-twirling skills that we saw him exercise in Star Wars: The Phantom Menace, but he does manage to rack up some decent scores playing the game for the very first time.
The feedback from the community mostly seems to be positive. They joke that he should have built his own specialized saber for the game in order to own up and get the highest score. Others were just excited to see Park playing the game, while a few more suggested that the actor should ditch the PS4 altogether and build his own custom gaming rig, similar to what actor Terry Crews did. The reason for this was that they wanted Park to get an HTC Vive or an Oculus Rift, both of which support wireless options.
As is usual with actors showcasing some cool tech, a lot of people who had never seen a PSVR in action took a liking to the smooth movements and cool gameplay featured in Beat Saber and mentioned that they might invest in Sony's VR HMD at some point in the future.
A few other people joked that posting videos like that on Instagram is how Obi-Wan beat Maul because he was able to see Maul's secret training techniques.
It's funny, because Park actually did recently reprise his role as Darth Maul with a small cameo in Solo: A Star Wars Story, which came out last spring. Apparently he was supposed to have a larger role in an Obi-Wan solo film, but Disney put those spinoff projects on hold as the company began focusing more on the canonical main stories, like the upcoming untitled Episode IX, which will round out the new trilogy of films.
Even still, if you were a fan of Ray Park since his breakout role in Star Wars: Episode I or his turn as Snake Eyes in the two G.I. Joe films, you might get a kick out of seeing the prolific martial artist putting in some work with the PlayStation VR game. What's funny is that Park is actually no stranger to the world of gaming, as he's been in a couple of projects directly tied to video games, including a short Mortal Kombat X live-action series where he played the popular Outworld cowboy Erron Black, or the King of Fighters flick where he played main antagonist Rugal Bernstein.
For now, though, his only role in gaming is trying to rack up a high score in Beat Saber.
Your Daily Blend of Entertainment News
Staff Writer at CinemaBlend.