Mortal Kombat X Roster: Every New And Returning Character Confirmed So Far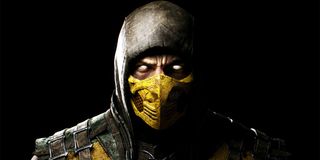 Netherrealm Studios has been announcing Mortal Kombat X characters left and right over the past few months. You may have missed a few of these reveals so here's a full list of every character revealed thus far.
The list of characters is broken down into three sections: classic characters, new and DLC. Each character is accompanied by a brief description. In the case of the DLC fighters, the guide briefly mentions how you can acquire them as well.
br>
Classic Characters
Ermac - Ermac is a ninja built from the lost souls of many Outworld warriors. This soul energy allows him to levitate and toss his opponent around the map.
Jax - Major Jackson "Jax" Briggs is a Special Forces operative whose cybernetic arms enhance his considerable brute strength.
Johnny Cage - Cage is an action movie star well-versed in many fighting styles. He can empower many of his attacks with shadow energy.
Kano - Kano, a shady arms dealer, uses many high-tech weapons to give him an edge in battle.
Kenshi - Kenshi may be blind but his telekinetic skills and magic sword more than compensate for his handicap.
Kitana - Princess Kitana uses her Steel Fans as a ranged and melee weapon in combat.
Kung Lao - Kung Lao is a former Shaolin monk who supplements his martial arts with his razor-lined hat.
Mileena - Mileena is a clone of Kitana created for Shao Khan. Her signature weapons are a pair of sais.
Quan Chi - Quan Chi is one of the mightiest sorcerers in existence and can hypnotize or damage his opponents with his dark magic.
Raiden - As the God of Thunder, Raiden can call on lightning and wind to achieve victory.
Reptile - This lizard-like ninja is unquestionably loyal to Kotal Kahn.
Scorpion - Scorpion is an undead assassin brought back to life by Quan Chi's dark magic.
Shinnok - Shinnok was once an Elder God. Mimicking other fighters' moves is one of his many abilities.
Sonya Blade - Sonya doesn't have the supernatural abilities of many other fighters so she instead relies on hand-to-hand combat skills refined through years of Special Forces work.
Sub-Zero - Sub-Zero is a warrior who can create ice and use it to deadly effect in battle.
Liu Kang - Liu Kang is a former Shaolin monk who has been part of the Mortal Kombat series since the beginning.
New Characters
Cassie Cage - Cassie Cage, the daughter of Johnny Cage and Sonya Blade, followed her mom into Special Forces. She uses two pistols in combat along with a nightstick.
D'Vorah - D'Vorah is an insect-like warrior who can summon wasps and other bugs and use them as weapons.
Erron Black - Erron is a gunslinging mercenary from Earthrealm who now serves Kotal Kahn.
Ferra & Torr - Ferra is a small, clawed creature that rides on the bank of the muscular beast Torr.
Jacqui Briggs - Jacqui, like her father Jax, is a Special Forces member. She wears mechanical gauntlets to make her punches even more damaging than usual.
Kotal Kahn - Kotal Kahn, a warrior with superhuman strength and mastery over blood magic, is fighting Mileena for control of Outworld.
Kung Jin - This mysterious ally of Cassie and Jacqui can use a simple bow and arrow to deadly effect in battle.
Takeda Takahashi - Takeda is the son of Kenshi and a pupil of Scorpion. He's skilled with both a whip and katana.
DLC Characters
Goro - This four-armed brute uses his extra limbs to easily grapple and pummel opponents. He's exclusively available for Mortal Kombat X pre-order customers at launch but might also be sold separately later on.
Jason Voorhees - Jason, the machete-wielding star of the Friday the 13th movies, is one of four characters included with MKX's Kombat Pack.
Predator - Predator, an alien hunter armed with a cloaking device and futuristic weaponry, is the other cross-over fighter in the Kombat Pack.
Tremor - Tremor is a ninja who can create earthquakes in battle. He's also part of the Kombat Pack.
Tanya - Tanya first debuted in Mortal Kombat 4 and will appear in MKX as the fourth Kombat Pack character. She's an acrobatic warrior who enhances her blows with fire magic.
Staff Writer at CinemaBlend.
Your Daily Blend of Entertainment News
Thank you for signing up to CinemaBlend. You will receive a verification email shortly.
There was a problem. Please refresh the page and try again.