King Of Fighters 14 Is Launching With A Ton Of Characters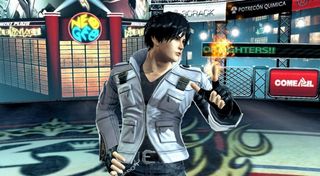 The King of Fighters series has always been known for its robust cast of characters. The series was a crossover series that featured characters from most of SNK's well-known fighting games all coming to duke it out in an annual tournament. The newest game in the series will boost the character count to 50 pugilists right out of the gate.
Gamespot picked up the news from Siliconera who translated an interview where King of Fighters XIV battle designer Yasuyuki Oda spoke to Famitsu, revealing that the game would launch with an impressive roster of 50 different fighters to choose from. The best part is that the characters won't be disc-locked content or hidden away through microtransactions. Players will be able to unlock and play the characters right from the disc. Oda stated...
He was unsure about DLC because SNK is just getting back into the consumer market after taking a break and focusing on the pachislot market following the launch of King of Fighters XIII; but they'll see how things progress after the game releases in Japan, exclusively for the PS4.
In a previous interview with Famitsu business executive at SNK Playmore, Minoru Noguchi, he revealed that they had to get out of the pachislot business due to increased regulations and expenses in Japan. They were losing money on the slot and pachinko machines, so they decided to head back into electronic entertainment with video games. Their first title was obviously going to be a return to their bread and butter, King of Fighters.
The KoF series has been persistent since 1994, combining the likes of many of SNK's fighters from other games into one title along with introducing King of Fighters exclusive characters such as Kula, K', Kyo Kusanagi and Iori Yagami to name a few. The series was always regarded as a true niche fighter for absolutely the most hardcore of fighting game fans due to the steep learning curve and diverse cast of fighting styles present amongst the eclectic mix of fighters that always made the game shine.
And speaking of fighters, some of the 50 characters were revealed in the trailer; those who will be present in this upcoming title will include favorites such as Kyo Kusanagi (the main protagonist for most of the earlier King of Fighters games through the mid 1990s), Iori Yagami (Kyo's arch nemesis), Angel, Kula Diamond, King (one of my own personal favorites from Art of Fighting), Billy (from Fatal Fury), Leona (a King of Fighters native), Chang Koehan (which likely means Choi will be in the game, too) and Andy Bogard (the brother of Fatal Fury's former main protagonist Terry Bogard).
Given the characters that they've revealed so far and the fact that each character is part of a team, it stands to reason that we can expect many of the classic teammates to return as well. So don't be surprised to see Terry and Joe join Andy as Team Fatal Fury. And given that Kyo is in the game, he may have his classic KoF Team that features Benimaru and Goro Daimon, or the wannabe Shingo Yabuki (who had managed to unlock some small sparkly powers in his last outing, along with Kensou unlocking his Dragon powers).
One of the game's most popular characters, Athena, hasn't been shown but it's likely she'll return. Other fan favorites like Kim Kaphwan are also likely to return given that he's one of the most popular in the FGC, along with Ralph and Clark.
Personally, I'm hoping Heavy D, Ryuji Yamazaki and Jhun Hoon will also make a return. May Lee was a very interesting character from a mechanics perspective due to her devastating manual combos, so it will be interesting if SNK still has the rights to the Eolith character, along with K9999 who was eventually turned into a completely different character after licensing worries popped up over his likeness to Tetsuo from Akira.
King of Fighters XIV will revive the team format from previous King of Fighters titles, allowing for 3-on-3 fights and up to six players to participate. No release date has been set for the PS4 exclusive, but fans of KoF have been eagerly awaiting the return of the fighting game.
Your Daily Blend of Entertainment News
Staff Writer at CinemaBlend.