New 'Ambush' Mode Coming To Call Of Duty: Black Ops 4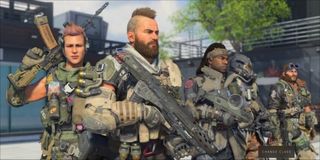 (Image credit: Activision)
One of the biggest releases of 2018 was Activision's Call of Duty: Black Ops 4. The first-person shooter was one of those games that was a pretty big risk for Activision, because the company axed the game's single-player campaign mode. But that doesn't mean that it isn't being replaced with some new modes and features, such as the new Ambush mode, which is set to arrive soon.
CharlieIntel is reporting that an image from an update for Black Ops 4 through the mobile companion app revealed a new mode called Ambush was set to arrive for the game's Battle Royale mode called Blackout.
Ambush is an alternative mode where the only weapons on the map that will be available to you are sniper rifles and melee weapons. This means that all combat will either be one of long-range wits, or CQC. It's a little bit like an alternative of the Halo alt-mode called shotguns and sniper rifles, where you were either engaged in bursts of short-range carnage or long-range tactical precision sniping.
Obviously, a screenshot captured from the mobile app is not proof that the game was getting a new mode, but it turns out that the traction the screenshot gained from appearing on the game's sub-reddit was enough to actually get developer Treyarch to chime in on the matter.
In a post over on the Black Ops 4 sub-reddit, an official Treyarch community manager popped in to confirm that Ambush would be coming soon to Black Ops 4, starting the comment by saying "It's true," which obviously left plenty of people excited.
However, the mode will not be around forever. The Treyarch official may have confirmed that it was coming, but also noted it was going to be a limited-time mode within Blackout, very similar to the limited-time modes that Epic Games introduces into Fortnite on occasion.
The Ambush mode may not be available in the game just yet, but the Down But Not Out mode will be available for a couple of weeks on each platform, starting with the PS4. It's like an appetizer for the Ambush mode. This was accompanied by a new redeploy system for the game as well, which is all placeholder content until the Ambush mode is optimized and fixed up real nice and neat ahead of its release.
Activision and Treyarch have been consistent in keeping the game updated with a regular roll-out of new content to keep the playerbase engaged, especially when it comes to the Battle Royale mode. There's a lot of stiff competition out there from a number of other big players, and fresh new updates will keep players coming back for more instead of veering off into the playground of the competition such as PlayerUnknown's Battlegrounds or Fortnite.
That's not to mention that Battlefield V's Battle Royale mode is also set to go live in March, so it's important to cycle in new content for Black Ops 4 as frequently as possible, and it looks like Treyarch is doing just that with the addition of the limited-time Ambush mode.
Your Daily Blend of Entertainment News
Staff Writer at CinemaBlend.