Epic Games Refunds Mom After 11-Year-Old Son Spends $1,200 On Fortnite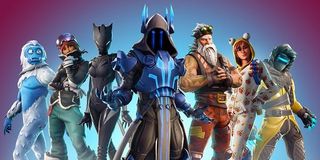 A North Carolina mom found out the hard way that you probably shouldn't give your kid free rein with a credit card if they're playing a game like Fortnite. In this particular instance, her son amassed a bill totaling $1,200.
This story comes to us from News4JAX, a television news broadcast serving the Jacksonville area. During a recent morning update, anchors told the story of a mother whose 11-year-old son spent $1,200 on in-game purchases within Fortnite. A free-to-play game from Epic, Fortnite has plenty of ways to spend real-world currency on things like season passes and cosmetics.
According to the report, the woman initially thought she was the victim of fraud when she received the credit card bill, only to discover her son had been rolling large within the game.
She contacted Epic Games and eventually received a refund, though the original report notes that the process took some time. The report also mentions that Epic has received an "F" rating from the Better Business Bureau, but missed Epic's response to that matter, noting that they work with customers personally and choose not to affiliate with the BBB.
The story also states that additional cases such as this one have been reported and the majority of those have gone unresolved. That's presumably focusing on the handful of complaints made through the BBB, which Epic has stated they handle through their own channels. As a note to customers, if you have an issue with Fortnite or Epic, you should probably contact them directly.
During the broadcast, the anchors discuss the potential dangers of for-pay items in games like Fortnite, claiming there is no way to prevent a kid from going hog-wild with your credit card. Again, this ignores parental features that exist within the game itself and on various gaming platforms where Fortnite is available. It should also be noted that credit card information is not required to sign up for an account on Fortnite or to play the game. So if a kid has unrestricted access to a parent's credit card within the game, there's a pretty good chance the parent was involved in that process in the first place.
Without knowing the particulars of the case, it's likely that Fortnite's EULA actually protects them from claims such as this. When playing modern online games, that's the walls of text everyone speeds past before diving in. What's important about that text is that it states all the things you agree to by hitting the "accept" button, including matters of spending real-world currency within the game. And since a kid can't get their own credit card, purchases made are the responsibility of the card holder.
Despite all that, it sounds like Epic decided to play nice in this particular case. Still, I can't help but wonder if that refund resulted in all of the in-game purchases being wiped from the account.
Staff Writer for CinemaBlend.
Your Daily Blend of Entertainment News
Thank you for signing up to CinemaBlend. You will receive a verification email shortly.
There was a problem. Please refresh the page and try again.