Why GameStop Canceled Many Kingdom Hearts 3 PS4 Pro Pre-Orders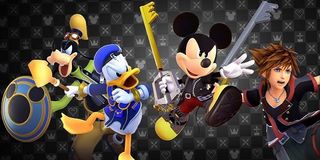 Just a few days out from launch, GameStop canceled some pre-orders for the upcoming Kingdom Hearts 3 special edition PlayStation 4 bundle. The company's initial reasoning was an "unforeseen issue," but it later explained further on social media.
The above tweet comes to us from user "Kenny tran" (via Gamerant), who recently received an update from GameStop explaining that his Kingdom Hearts 3 PS4 bundle had officially been canceled. Kenny included the email from GameStop in his tweet, which noted that a $25 coupon to the store's website was being offered as compensation. There was also an apology for "any frustration" the cancellation may have caused.
Shortly after, additional folks started popping up on social media explaining that their PS4 bundle had also been canceled, and that GameStop had sent an identical email. GameStop later addressed the furor on Twitter, explaining that they messed up by overselling:
In case you're wondering why this is such a big deal, it's because we're not just talking about a standard PS4 Pro with a copy of the game included. Sure, these folks can simply buy the game by itself, but the actual console and its controller boast a bunch of spiffy artistic designs from the game. In other words, they wanted this very specific console, they pre-ordered it to make sure they could get it, and now they're being told nearly a year later that their pre-order has been canceled.
The problem many have with these kinds of issues is that these folks were willing to lay down their reservation bright and early specifically so they wouldn't have to deal with shortage issues. If GameStop wasn't going to be able to fulfill their order, it stands to reason they would have pre-ordered the very specific item they wanted somewhere else. Instead, they trusted GameStop to fulfill their order, as advertised, and now their chances of finding the console elsewhere are basically zero. That $25 coupon is understandably frustrating these folks who have had their pre-orders canceled.
As the initial report points out, pretty much their only option at this point is to turn to sites like eBay, where folks are selling the consoles for a hell of a lot more than they are worth. And again, that wouldn't be an issue had the retailer they decided to purchase their console from come through on their end of the transaction.
Of course, this isn't the first time we've seen something like this happen. Similar issues popped up a couple years ago when the Nintendo Switch launched, as Nintendo had trouble keeping up with demand. And then, when the NES Classic Edition launched, plenty of folks had their pre-orders canceled due to an unexpectedly limited supply.
We'll keep our eye out for any additional updates on this mess but, for now, it looks like some folks who were expecting to have a Kingdom Hearts-themed PS4 next week are simply out of luck.
Your Daily Blend of Entertainment News
Staff Writer for CinemaBlend.