Kingdom Hearts Is Getting A Free VR Experience Before Kingdom Hearts 3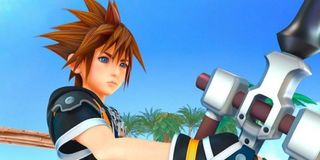 While we've still got to wait until 2019 to play Kingdom Hearts III, Disney and Square Enix aim to tide fans over through the holidays with the launch of a VR experience set within the game's world. From reliving pivotal moments pulled from the games to smashing Heartless with a keyblade, you'll get to step into Sora's oversized shoes when Kingdom Hearts: VR Experience launches for the PlayStation VR.
Over on the PlayStation Blog, Square Enix announced Kingdom Hearts: VR Experience, a free download launching for PSVR this holiday season. That's as specific as the launch window gets, and details about what the pseudo-game will be all about are also a bit vague. That's for good reason, though, as Shoji points out that the team wants to let players be surprised when they first strap on a headset and jump into the game. They're also being careful to set expectations, noting that the entire experience should only last about 10 minutes.
It sounds like they're going to cram a heck of a lot into that time, though, as the experience will let players see key events from Kingdom Hearts' history from a new perspective, all accompanied by music from the games. While several of the screenshots look like they're literally pulled from the original games, others clearly show Sora wielding a keyblade from a first-person perspective while using it to whack invading Heartless.
The only other detail is that additional content will be unlocked as you play, so it doesn't sound like the 10-minute interactive video is the only thing the KHVRE will offer. My first thought was that the keyblade sequences would be dropped into the interactive presentation, but now I'm wondering if maybe they'll be additional activities you can keep playing while trying to claim a high score or something. Either way, it's all for free, so I'll take whatever Kingdom Hearts goodness I can get at this point.
Speaking of which, that Jan. 25 launch date for Kingdom Hearts III is approaching with a quickness. Hard to believe, considering how long the game has been in development, but we've got our fingers crossed that things are going smoothly and Square Enix won't have to push the game back again. That also means we've got a few months left to have additional details about the game slowly revealed, such as additional destination worlds. We just saw Big Hero Six in action thanks to a Tokyo Game Show preview event, and past trailers have revealed locations such as Toy Story, Tangled, Monster's Inc. and Frozen. Square Enix and Disney will obviously want to keep a few secrets under wraps for the game's launch, but we wouldn't say no to at least a few more tidbits in the meantime.
Your Daily Blend of Entertainment News
Staff Writer for CinemaBlend.