Montana Is Using Far Cry 5 To Promote Tourism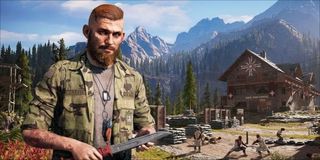 (Image credit: Ubisoft)
It's rare that an entire city or state becomes part of the promotional material for a game, but it happens on occasion. San Francisco was the lifeblood of Watch Dogs 2 and Ubisoft made no reservations about using the setting to promote the game. The company also did something similar with the fictional Hope County in Montana being a major selling point for Far Cry 5. Well, it appears Montana was rather flattered by Ubisoft's gesture. The state has begun using the game to promote tourism.
According to PCGamesN, Montana has teamed up with Ubisoft and there's now a VisitHopeCounty.com website. The county isn't real, but the state is. Hope County is the fictional location that houses various small towns where a militant doomsday religious group has gathered in order to recruit for the impending Armageddon.
As pointed out by PCGamesN, the website avoids getting into the nitty gritty of the game's plot, but it does mention the violent revolution that ends up taking place within Hope County that involves police deputy Rook and a few other rebels who get into a civil war with the Eden's Gate religious cult, led by Joseph Seed.
If you head over to the Hope County website, there's a FAQ page that mentions Far Cry 5 at the very top, mentioning that the game is set in America and gives players the freedom to navigate a "serene-looking yet deeply twisted world." It surprisingly breaks down how players will get thrust into the middle of the silent coup that no longer stays silent, and will join up with the residents of the county to fight back as part of the resistance.
I'm a little shocked they would even mention the violent aspects of the game, but I'm sure anyone who is familiar with Far Cry knows there's some measure of violence involved. As mentioned, it avoids pointing out that Joseph Seed proclaims himself to be a prophet of God (Spoiler Alert! And yes, it turns out to be true) and also skips over the manufacturing of the drug Bliss, or the torture camps that Jacob Seed establishes, but it does give a few reasons why Ubisoft decided to set the game in Montana. It points out that the design team enjoyed the varied topography of Montana and the small towns scattered about the largely untouched region.
However, if you were hoping to find landmarks from Far Cry 5 inside of the real life Montana, you'll have to look elsewhere. The FAQ page points out that many of the landmarks and locations featured in the game are designed using "creative liberties."
The partnership with Ubisoft, however, was still opportunity enough for the state to take advantage of the exposure brought on by Far Cry 5, and the website offers a number of resources for vacation lodging, ranging from cabins and camping to chalets and condominiums, along with a list of activities available in Montana such as hunting, fishing, hiking, and off-road vehicular adventures.
PCGamesN also points out that this isn't the first time that a state has teamed up with a publisher to promote tourism due to a real-life location being featured in a game. Bethesda and West Virginia had a partnership as well for Fallout 76, which actually did feature real-life landmarks from West Virginia.
While some people might consider visiting Montana due to Far Cry 5, gamers will be able to return to Hope County once more when Far Cry: New Dawn launches on the Xbox One, PS4, and PC on February 15th, 2019.
Your Daily Blend of Entertainment News
Staff Writer at CinemaBlend.