5 Best Free Weapons In Fallout 4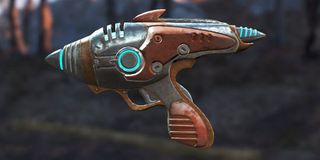 Bethesda has filled Fallout 4 with tons of powerful weapons. However, some of the best options are carefully hidden in the wasteland.
Here are five secret weapons you should definitely add to your arsenal. What's more, you won't need to pay a dime to get them.
Cryolator
While leaving Vault 111 for the first time, you may notice a locked case in the Overseer's office that contains a weapon called the Cryolator. The case has a Master-level lock so you won't be able to open it just yet. However, you can get the ability to pick locks of that quality as early as level 18. Once you can, you should head right back to the Vault and get the Cryolator. It fires a stream of frost that can kill many targets almost instantly even without mods.
However, you can burn through the Cryolator's initial 200 rounds very quickly. You'll need to purchase more ammo at the weapon stores in either Diamond City or Goodneighbor. Be prepared to bring a bunch of caps, though, because cryo ammo can be very pricey.
The Deliverer
One big challenge for players is finding enough ammo for top-of-the-line weapons. That's not a problem for the Deliverer, a pistol that uses cheap and plentiful 10mm bullets. This silenced handgun has a higher hit chance and lower AP cost than average, so it's great for getting the drop on enemies. Even if you like heavier weapons, this is a great option as a backup. You can use it to easily kill a lot of common enemies so you can save pricier ammo for more difficult encounters.
The Deliverer can be earned by completing quests for the Railroad. You can start the quest chain for this faction by following the Freedom Trail (a red painted line) through the city of Boston to the Old North Church. Complete a quest called "Tradecraft" and you'll get the pistol as your reward.
Alien Blaster Pistol
At some point during your journey, a UFO will crash into the wasteland. There's some dispute over when this encounter will happen and what quests you need to complete first. Some think that you need to be level 20 for the UFO to crash while others think it's triggered simply by traveling in the Diamond City area. Either way, you can check for the crash site just a bit east of Oberland Station to see if it happened.
At the crash site, you'll see a trail of green blood leading to a cave. The blood is from a wounded alien in the cave that you'll have to kill. You can then loot the blaster from his corpse along with a healthy pile of ammo. There's no way to find more ammunition for it. However, you can modify the gun to accept common Fusion Cells if you've got the Science! perk.
Le Fusil Terribles
If shotguns are your thing, you really need the Le Fusil Terribles. It has a huge clip, high firing rate and tons of damage. The recoil is higher than normal but that won't make much of a difference in close quarters.
You can find Le Fusil Terribles at Libertalia, a raider settlement composed of several boats strung together. It's northeast of Nordhagen Beach, the small village northeast of the airport. After fighting your way through Libertalia, you'll see the shotgun on a table in the captain's quarters.
Furious Power Fist
The pond in the middle of Boston Common seems to have a dead swan in the middle. However, that's actually a plastic swan being worn by a super mutant. The mutant is a hard fight, especially if you let him get close. However, your reward for killing him will be great: a melee weapon called the Furious Power Fist.
The Furious Power Fist is worth the trouble to get it. Its damage increases after every consecutive hit on the same target. Assuming you can get close enough to your enemy and have the armor to stay alive, you can absolutely tear them apart.
Staff Writer at CinemaBlend.
Your Daily Blend of Entertainment News
Thank you for signing up to CinemaBlend. You will receive a verification email shortly.
There was a problem. Please refresh the page and try again.