5 Great Games That Are Too Hard For Newbies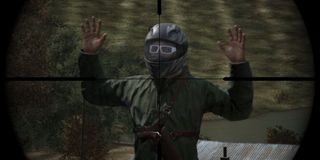 Older gamers love to talk about how games are just too easy these days. To some extent, they're right. There are a lot of games built with complete newbies in mind that have abundant tutorials, easier difficulty settings, and forgiving mechanics like regenerating health.
However, there are plenty of games out there that still push players to their breaking point - or past it. They're a lot of fun in the end but man do they make you work for it. Here are a few great games that have no interest in holding your hand.
Dota 2
We could've easily filled this entire list with MOBAs. Just learning all of the basics of the genre and its terminology is a challenge in itself. Becoming good - or even adequate - at a MOBA is an even bigger challenge. Each game has a hardcore player base willing to sink hours upon hours into mastering the finer points. In the case of Dota 2, 25% of players have spent over 750 hours in the game.
The reason I picked Dota 2 to represent MOBAs on this list is that it's arguably the least forgiving of the bunch. When you die in Dota 2, you don't only give your killer gold and experience points - you also lose gold, too. Landing killing blows on opponents for more gold is hard enough but in Dota 2 you also need to learn how to "deny," or kill friendly units right at the last minute so your opponent doesn't get the reward. On top of all that, you need to learn how to do this better than players who might have a 750-hour headstart on you.
DayZ
DayZ drops you on a beach without any weapons or any idea how to find them. You'll spend your first few hours of the game just running from zombies and checking empty farm houses for supplies. Then you'll starve to death and start over from scratch. Or you'll find a can of beans, realize you need a can opener, and then starve to death.
The areas with the most supplies tend to have more zombies. Plus they come with another hazard: other players. Many of them will kill you on sight to get what little supplies you have or simply to pass the time. Some day you'll get a weapon and be able to fight back. Until you learn the ropes, though, expect to respawn at that beach a lot.
IL-2 Sturmovik
If the name didn't seem daunting enough, 1C: Maddox Games' IL-2 Sturmovik may as well have a sign on the box that reads "Newbies Aren't Welcome". The attention to detail and aircraft complexity that Maddox put into IL-2 Sturmovik is impeccable. It's a combat flight sim with a well-rounded bit of single-player content and a massive online component that sports up to 100 players. However, just being able to take off might be one of the single greatest obstacles you'll face when playing the game.
Dying in IL-2 Sturmovik is a given, not dying is a matter of counting the seconds until you do. That's how the game is played. There are a ton of controls to learn, a lot of flying rules to remember and it's extremely easy to crash and burn. Even attempting to fly well enough to score hits against other players becomes a distant dream. I never made it far into IL-2 Sturmovik. I was happy to have spent several hours over the course of several days just being able to successfully take off and glide for a few minutes before stalling and crashing.
PlanetSide 2
First-person shooters are among the easiest competitive games to jump into. Just stick with teammates, spray your gun around and you'll get a kill or two in your first few minutes. PlanetSide 2's not quite so simple, though. In PlanetSide 2, hundreds upon hundreds of players are fighting for territories across three open-world maps. There are no tidy 10v10 deathmatches here. You might spawn in a base only to find that you're outnumbered 5:1 by the faction attacking it.
Furthermore, the RPG progression of the game means that you'll be facing players with stronger weapons and armor than you right off the bat. Oh, and good luck shooting down a fully-upgraded gunship when your character doesn't even have an anti-air rocket launcher. War isn't supposed to be fair but when you're first starting PlanetSide 2, it's really not fair.
King of Fighters XIII
I've always been a huge fan of SNK's King of Fighters series. The games are a technical marvel and delve deep into the spirit of martial arts. The games have always featured a wide variety of really awesome pugilists from all sorts of different backgrounds, and while variety and options are high up on the list of features for just about all the King of Fighters games, accessibility and ease-of-entry are not.
King of Fighters XIII turned out to be one of SNK's greatest titles in the long running series (some even argue it's better than KoF '98). However the fancy graphics and cool characters are shelled into a technical fighting game the likes of which very few have been able to properly master. The game prides itself on a roster filled with characters each containing their own complex combos, lengthy button-inputs for special moves, and a series of finger-rehearsed choreography for super-cancels and special-cancels that seem as if they're designed for only the most ardent of controller gurus. As I said, I love King of Fighters, and the art and story are great, but it's no realm for newbies.
Your Daily Blend of Entertainment News
Your Daily Blend of Entertainment News
Thank you for signing up to CinemaBlend. You will receive a verification email shortly.
There was a problem. Please refresh the page and try again.