PlanetSide 2 Sets World Record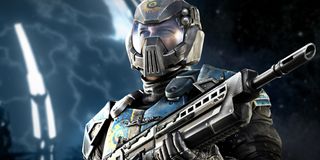 PlanetSide 2 is a big game. How big? Well, the MMO-esque online shooter recently set a Guinness World Record, specifically in the area of "Most players online in a single FPS battle." Take that, puny FPS games who can barely handle 64 digital soldiers at once.
Sony Online Entertainment announced the world record today, saying that Guinness World records has confirmed the new record for PlanetSide 2. According to SOE's announcement, earning the honor has brought "to the forefront the game's player community as among the most dedicated in the world of gaming."
The record was actually set just two days ago, oddly enough, on Jan. 24. For the special event, SOE partnered with PlanetSideBattles for the record attempt, with factions battling on the Hossin map with all three PlanetSide 2 factions present and accounted for, including Terran Republic, Vanu Sovereignt and New Conglomerate. For this one-off throwdown, a total of 1,158 players joined the fray simultaneously on the game's Jaeger competitive server. As a result, SOE bested the previous record holder, a group called Man vs. Machine, who managed to get 999 players online way back in 2012 within the original PlanetSide.
For those unfamiliar with PlanetSide 2, those numbers aren't a typo. The game's structure is similar to that of an MMO, with players joining massive maps in a never-ending struggle for dominance with solo players and squads alike given free rein to wage war on foot, in the air or behind the wheel, all at once. The result is typically a large group of focused action, giving the feel of, say, a big round of a Battlefield or Call of Duty warfare, but happening all over the map at the same time. Technically, a player can go wherever they want and could even manage to cruise around for several uninterrupted minutes before ever crossing paths with friend or foe. Of course, you wouldn't be helping your team too much by just goofing off, but it's always an option.
"PlanetSide held the original record for this achievement and we're thrilled to have officially taken it back with PlanetSide 2," said Producer David Carey. "It's truly the players that define the game and we'd like to extend a big congratulations to our players for reaching such an accomplishment nearly every night, as well as thank them for making PlanetSide 2 exactly the type of experience it was meant to be."
PlanetSide 2 is a free-to-play war game, so you can jump in on the action right now simply by heading to the official website. A PS4 beta kicked off Stateside last week, so look for it to finally launch on consoles in the not-too-distant future, too.
Staff Writer for CinemaBlend.
Your Daily Blend of Entertainment News
Thank you for signing up to CinemaBlend. You will receive a verification email shortly.
There was a problem. Please refresh the page and try again.