5 Touching Memorials In Video Games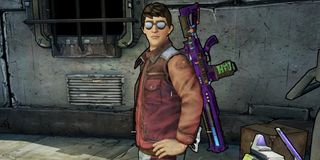 This week Star Trek Online's developer added memorials to Leonard Nimoy in their game. This is far from the first time that video games have been used to pay tribute to the departed, though.
Thanks to the efforts of players and developers alike, many deceased have been given new life through games. Here are a few of the most touching memorials throughout gaming.
Robin Williams - World Of Warcraft
After Robin Williams died, World of Warcraft players started a petition asking for Blizzard to add an in-game tribute to him. This wasn't an unreasonable request; Blizzard has a long history of immortalizing the deceased in WoW and Williams, as a self-professed fan of the game, was a natural fit.
Blizzard quickly complied with the petition, adding an island in new expansion Warlords of Draenor loaded with references to Williams' work. Players can rub a lamp there to summon a genie that resembles Williams' character from Aladdin. Other artifacts found throughout the island include a few toys (presumably a reference to the movie of the same name) and the egg-shaped spacecraft from Mork and Mindy. It's a great memorial that shows just a few of the many reasons that fans loved Robin Williams.
In Memory Of Pauline - Minecraft
In 2013, a Minecraft player's wife Pauline passed away from ovarian cancer. To cope with her loss, he decided to build an enormous memorial to her in Minecraft, the game they used to play together. The top of the building has an enormous statue of her riding a minecart. The ground level is a candle-filled shrine with glass walls.
What makes this structure all the more impressive is that it was all built by one person. His friends helped him gather up the material but he designed the memorial and placed every block himself. He said the project took two months in total. Hopefully the long process brought him some comfort in those difficult months after her passing.
Sarah's Jenner - Mechwarrior Online
One of Mechwarrior Online's youngest players was a five-year-old girl from British Columbia named Sarah. When she died from brain cancer in May 2013, Piranha Games decided to honor her with a personalized Jenner mech. The Jenner had a colorful paint job that included a teddy bear, pink peace symbol and rainbow.
Over that summer, Piranha Games sold Sarah's Jenner for $10 a pop, with all proceeds going toward the Canadian Cancer Society. The custom mech raised $122,330 in the two months it was on sale.
Tribute to a Vault Hunter - Borderlands 2
While they were developing Borderlands 2, Gearbox received a touching email from one player. His friend, a fellow Borderlands player named Michael Mamaril, passed away at age 22 from cancer. Michael's friend had a simple request for Gearbox: could they record a eulogy for him with Claptrap's voice?
Gearbox not only released a Claptrap eulogy for Michael but went one further: they added him to Borderlands 2. Michael Mamaril is an NPC that spawns in random locations throughout Sanctuary. When you talk to him, he'll offer you a new weapon for your collection. What's more, you'll get an Achievement/Trophy called "Tribute to a Vault Hunter" for finding him.
Rall Oldroar - Guild Wars 2
Roger "Oldroar" Rall was excited for Guild Wars 2 and hoped that his guild Gaiscioch, founded during Dark Age of Camelot, would find a new home there. Unfortunately, he passed away before the game was released.
His guildmates were intent on making him part of the game, though. They lobbied ArenaNet hard, with former and present members sending the developer letters about their memories of Roger. The guild also organized a "CookieZerg," sending thousands of baked treats to ArenaNet's office.
The developer heard their pleas and delivered two fitting tributes. First, they named one of Guild Wars 2's servers "Sanctum of Rall." They also added a Charr historian to the game who tells the story of Tribune Rall Oldroar. This warrior, the historian says, was wise beyond his years and never lost in battle.
"He retired to teaching at fahrars, and eventually passed into the Mists with a honored soldier's salute," the historian concluded. "There will never be another like him."
Your Daily Blend of Entertainment News
Staff Writer at CinemaBlend.