6 Amazing Trailers Remade In GTA IV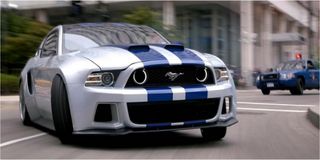 While GTA V is all the rage these days, Rockstar still hasn't made it available for the PC audience, which in turn means that there's no movie studio feature to make (or remake) all kinds of awesome stuff within GTA V. Nevertheless, some gamers have taken it upon themselves to do what they can with what limited functionality is afforded to them in GTA V, attempting to redo scenes from Skyfall or the trailer from The Purge: Anarchy, or even rolling out some amazing plane-to-plane stunts in Rockstar's latest title.
However, the quality of those remakes suffer from the lack of Rockstar's embedded movie editing tools from GTA IV. One of the things gamers have nearly come to master in the 2008 outing is the ability to completely transform Grand Theft Auto into entirely new beasts, including outputting amazing trailer remakes from other games, music videos or even movies. Just like the ones in this list.
James Bond: 007 Blood Stone Trailer
Why not start with James Bond? This trailer doesn't quite sport the complete modded overhaul that we've come to appreciate in GTA from other videos and trailers (especially lacking the Craig model, which would have increased the appeal of the trailer by 100 fold), but this entry does sport some extremely slick editing and the original audio track overlay from Activision's 007 title that was criminally underutilized. The game itself may have faded from out of the existence of digital distributors due to publishing rights passing from out of Activision's hands, but gamers will always have games like GTA IV to remind them that beyond watching trailer remakes, they can also grab a Daniel Craig mod and do all the James Bondsy stuff that was featured in the original Blood Stone.
GTA: Vice City Rage Trailer
This is the kind of trailer that makes you fuzzy all over. Designed by the Rage modding team over the course of a few years, GTA Vice City Rage is literally a complete video game transplant of the 2002 outing into the GTA IV advanced game engine. The inclusion of classic 80s track "I hear music in the streets" layered on top of all the slick gameplay elements from Vice City with all the advanced physics, lighting and mechanics from GTA IV is just sublime. While GTA: San Andreas Rage was also overhauled by the mod team, there's something about seeing Vice City elevated to the GTA IV rendition of Rockstar's advanced game engine just make it all that much more worthwhile.
Fast & Furious 6 Movie Trailer
So because apparently there weren't enough explosions in that 007 trailer on the first page, it only makes sense that there's a trailer of Fast & Furious 6 remade in GTA IV. To make this one a little closer to the source material, there's a small picture-in-picture mode so you can compare how the editing tries to stay as close to the original as possible. Of course, it's a bit unfortunate that the trailer doesn't sport Vin Diesel or Paul Walker mods, even though there are plenty available out there. Still, the trailer is put together in a pretty awesome way and it definitely manages to capture a lot of the excitement and ridiculous thrills from the over-the-top Justin Lin car-porn action flick.
The Dark Knight Movie Trailer
Well here's something you probably didn't expect to see on the list. While a lot of people are probably thinking "What about that GTA V trailer remade in GTA IV?" Well, it was okay sure, but does it really compare to a complete modded overhaul in GTA IV that contains not only a fully decked out caped-crusader and his bat-pod, but also sports a modded out Tumbler and the antagonistically accurate Joker? I would have to say that this trailer here ranks up there pretty high. My only complaint is that for the famous truck-flipping scene during that epic chase sequence, he should have used the trainer to attach a trailer to a semi and then use an explosion in the back of the trailer to trigger forced momentum and vertical lift while slamming hard on the brakes with the semi; this would have properly emulated the trailer-flipping that occurred in the movie. Also, I'm a little shocked there's no Avengers trailer remade in GTA IV given the huge success of the movie, but I guess the Avengers just aren't as popular as Batman. Tough luck for Earth's mightiest heroes.
Need For Speed Movie Trailer
Oh crap is this well-freaking-done. It took YouTube user RavenwestR1 four whole days of making and editing the video together in GTA IV while overlaying the action with the audio from the Need for Speed movie. It's some amazing stuff and easily one of the best trailers remade in GTA IV. The combination of the audio, the music, the cars and the quick-cuts almost makes me want to go boot up the game and dump a customized silver and white Mustang in for good measure. RavenwestR1 obviously takes this stuff as a labor of love, since the guy has a ton of trailer remakes from Electronic Arts' Need for Speed series littering his channel in all sorts of awesome ways. Still, this NFS: Movie trailer remake is so slick that it definitely deserved a spot on the list. Heck, it almost makes you want to go see the movie because we all know a bunch of Americans decided they just didn't want to see it in the theater.
Ubisoft's The Crew Announcement Trailer
Okay, so originally this list would have ended with the The Need For Speed movie trailer entry, but RavenwestR1 actually managed to completely outdo himself with this beast of a trailer here because it manages to capture a lot of what was featured in Ubisoft's original announcement trailer for their multiplayer-based racing game, The Crew but also infuse and maintain so much of what makes GTA so awesome. More than anything, this is like a promotional trailer for the GTA IV online race mode. The cutaways and editing for this was just above and beyond slick, because I was curious how he was going to tie-in the cinematics from The Crew with GTA IV's gameplay, but Raven managed to do so in a believable and entertaining way. Props to him for that bit of success.
Your Daily Blend of Entertainment News
Staff Writer at CinemaBlend.