7 Fascinating Things We Learned About Tales From The Borderlands At E3 2014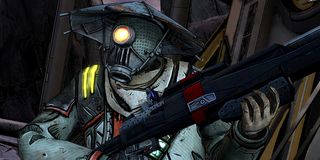 Perhaps one of my favorite hands-off experiences this E3 was Telltale's demo for their up-coming Tales from the Borderlands, a new episodic game based on Gearbox's co-op shooter series. While I was initially concerned by how much detail Telltale would be able to pull to fill their need for narrative, they quickly showed me just how rich the Borderlands series truly was.
After the demo of the game, which I gushed over here, I got the chance to sit down with Job Stauffer, the PR Director of Telltale Games. In it we talk their choice of lore, the inspiration for the protagonists, and the innovative manners in how games can convey stories. Here are the highlights from our chat:
Protagonists Rhys and Fiona were inspired by the vault hunters from Borderlands and Borderlands 2:
"When you think about them, you focus on these insanely powerful characters capable of handling the rough world of Pandora. But what about the characters who are basically the exact opposite? What about the normal people in Borderlands? Looking at the two different sides of the universe, how do they deal with the chaos going on with Pandora, Hyperion, the fall of Handsome Jack—that's sort of where Rhys falls in. He's sort of a corporate guy trying to work his way up the ladder. How does anybody become someone like Handsome Jack?
"With Fiona, it's again looking at the world of Pandora—we see monsters, we see vault hunters, we see bandits. What about someone who isn't a vault hunter, but is just trying to survive? If you're alive on Pandora, how have you lived that long to be as old as a person like Fiona is? You have to be smart, you have to be cunning. Really both characters were just inspired by the idea of who else lives there. If you're not a vault hunter, what are you and how are you still alive?"
Telltale picked Borderlands for their next game because of the size of the universe:
"With Telltale a lot of our criteria is asking 'Is the universe huge? Can you tell a thousand different stories in that world? And we always use Star Wars as a great example. There have been hundreds Star Wars games over the last 30 years, and the Walking Dead presents us with such a massive universe. We follow Lee and Clementine while the comics follow Rick and Carl, they can expand that and then there's the show. The Wolf Among Us fits because the world of Fables is huge—lots and lots of lore there, each character has its own fable. So Borderland definitely fits the criteria. It measures up. There is so much to say, so much to tell, and so much untold."
Tales of the Borderlands has replay value:
"[Flashbacks are] essentially the core of the whole experience, but whether they are telling the truth or not—kinda like in Borderlands—no matter what you're doing we want it to be entertaining. And it also has replay value, you can tell it a different way, ask yourself what the truth is." This trend definitely follows similar gameplay mechanics found in other TellTale titles, which could definitely appeal to adventure game fans.
The mysterious character listening to Rhys and Fiona's story is important to the Borderlands franchise:
"I think it's tough to get it until you see it and you play it, our demo was about 35 minutes, but it needs to be that way so you can see it one way and then the character shift flips the script and then all of a sudden, it's a story about storytelling. That stranger actually, the one listening to their [Fiona and Rhys'] story, is really relevant in the Borderlands franchise, and why he is listening to the character's stories is one of the coolest things to find out."
Players will meet plenty of old friends and foes:
"It's not an open world shooter, but you will see more creatures, familiar characters, and pieces of lore as the game progresses." This means that players may encounter some of the familiar faces that helped shape the story and gameplay in the first two Borderlands games, and it wouldn't be shocking to see some of the people that the vault hunters helped, as well as a few that became enemies along the way.
The story-telling style of the game was inspired by Game of Thrones:
"As interactive storytellers we're always trying to think of a way to innovate that way stories are told. We look at books and movies—shows like Game of Thrones where you jump between characters—and those really inspires us. In the DLC for the Walking Dead Season One, 400 Days there were multiple chapters where you play as multiple characters and see everything play out around the same location. And that was actually largely inspired by the film called Rashomon, which I encourage you to check it. It tells its story in a similar manner. And that's how this idea came about."
Telltale wants to blend games and cinema:
"It's Borderlands in a cinematic interactive scope. Our gameplay, as much as it is an adventure game, is told through the language of cinema. We shoot on scenes and sets, probably more than most game studios. We want to explore the blend of games and cinema, and ultimately what happens when you make that interactive. That's what Telltale has become really all about."
Katy Goodman is a freelance writer and graduate student in English. When she isn't busy training birds of prey, horses, or freshman composition students, she can be found playing video games or climbing trees. She also really likes grilled cheese. Follow her on Twitter @InvizzyB or on her blog, Pixel Hearts.
Your Daily Blend of Entertainment News
Thank you for signing up to CinemaBlend. You will receive a verification email shortly.
There was a problem. Please refresh the page and try again.